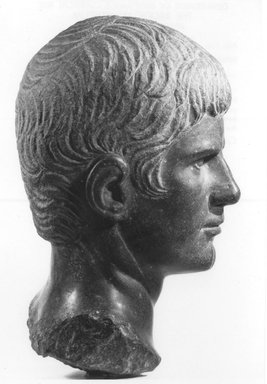 Portrait Head of Young Man
Catalogue Description:
Grey-green schist or greywacke Roman portrait head of a young man with part of shoulders near to neck preserved, but worked as a bust. Head turned to right; flocky hair fairly deep on forehead; sharp eyebrows; small eyes; straight nose (intact); strong mouth; cleft chin. Face well polished, but hair fairly rough. Possibly portrait of Gaius Caesar, grandson of Augustus. Condition: Perfect, but slightly chipped round base of neck; left ear broken off and well mended.
---