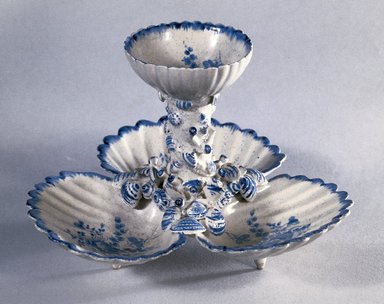 Sweetmeat Dish
During the eighteenth century, the manufacture of porcelain required many workers, raw materials, stone factory buildings with furnaces, and timberlands to supply fuel. These resources were abundant in America, but because England viewed the colonies as a market for its exports, it discouraged the manufacture of these products. In the 1760s, however, when Americans were boycotting English luxury goods, Gouse Bonnin (American, born England, circa 1741–circa 1780) and George Anthony Morris (American, 1742/5–1773), founders of the American China Manufactory, were among the first colonists to establish a porcelain factory. Although they succeeded in producing close imitations of English wares, Bonnin and Morris closed imitations of English wares, Bonnin and Morris closed their factory after only two years, owing to the resumption of trade with England in 1770 and the difficulties inherent in the startup of a new enterprise.
Catalogue Description:
Sweetmeat dish, white earthenware, composed of three half shells attached to a central rusticated stem surmounted by a circular shell of smaller size; three short peg feet support the base. Many small shells and bits of coral are encrusted on a central stem; a hand painted design of flowers, wheat and insects in underglaze zaffer blue compose the decoration, the shells are accented in the same blue. Condition: slightly nicked.
---