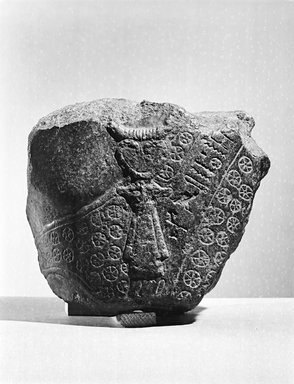 Fragment from the Breast of a Statue
Catalogue Description:
Fragment from the breast of a black granite statue of Mentuemhat. Leopard skin over left shoulder and Hathor-head pendant of necklace in relief on breast. Name and titles on band over left shoulder. Incomplete remains of three columns of inscription on back. Condition: Poor: Only small portions of statue is represented in the fragment. Sides entirely missing. Numerous chips. Inscription on back very badly worn and in part illegible.
---