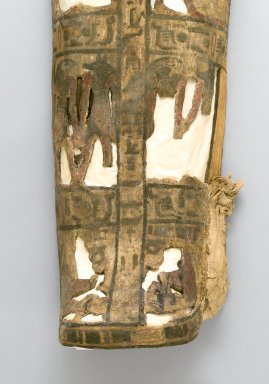 Coffin of the Lady of the House, Weretwahset, Reinscribed for Bensuipet Containing Face Mask and Openwork Body Covering
In this coffin set, Weretwahset combined the lid with the usually separate piece called the mummy board. A coffin lid is generally decorated to present the deceased as Osiris. Here, instead, the deceased wears a dress she would have worn in life—an image that more often formed the decoration for the mummy board, which would have rested inside the coffin and on top of the mummy.

Bensuipet erased Weretwahset's name from the side of the coffin and added her own, about two hundred years after Weretwahset died. Bensuipet also added the mask and body cover, perhaps from another coffin set.

Medium:

Wood, painted (fragments a, b); Cartonnage, wood (fragment c; cartonnage (fragment d)

Possible Place Made: Thebes (Deir el Medineh), Egypt
Dates:

ca. 1292-1190 B.C.E.

Dynasty:

early XIX Dynasty

Period:

New Kingdom

Dimensions:

37.47Ea-b Box with Lid in place: 25 3/8 x 19 11/16 x 76 3/16 in. (64.5 x 50 x 193.5 cm) 37.47Ea Coffin Box: 11 3/4 x 19 11/16 x 73 3/4 in., 70 lb. (29.8 x 50 x 187.3 cm, 31.8kg) 37.47Eb Coffin Lid: 14 3/16 x 19 11/16 x 76 3/16 in., 50 lb. (36 x 50 x 193.5 cm, 22.7kg) 37.47Ec Mask: 7 1/4 x 14 1/4 x 24 7/16 in. (18.4 x 36.2 x 62 cm) 37.47Ed Body

(show scale)
Collections:Egyptian, Classical, Ancient Near Eastern Art
Museum Location: This item is not on view
Exhibitions:
Accession Number:

37.47Ea-d

Credit Line:

Charles Edwin Wilbour Fund

Rights Statement: Creative Commons-BY
Caption: Coffin of the Lady of the House, Weretwahset, Reinscribed for Bensuipet Containing Face Mask and Openwork Body Covering, ca. 1292-1190 B.C.E. Wood, painted (fragments a, b); Cartonnage, wood (fragment c; cartonnage (fragment d) , 37.47Ea-b Box with Lid in place: 25 3/8 x 19 11/16 x 76 3/16 in. (64.5 x 50 x 193.5 cm). Brooklyn Museum, Charles Edwin Wilbour Fund, 37.47Ea-d. Creative Commons-BY
Image:
Catalogue Description:

Lower half of a painted wooden coffin and the painted cartonnage (containing part of the mummy) of a woman. The piece was usurped. In the column of text on the lower front of the cartonnage is written the name with the first part of the name being left blank (or erased if an earlier name appeared here). On the coffin the name is written more completely: Bns'wipt var. (B(n)s'wipt. Also visible, in several place underneath this name is what may possible be read Wr.t-w'h-(s'w). The cartonnage has a double wig. The sides of the coffin are decorated with representations of funerary deities with accompanying texts. Fragments of a bouquet of Persea leaves found in the coffin. The coffin box is identified as 37.47Ea. The coffin lid is identified as 37.47Eb. The mask is identified as 37.47Ec. The openwork body covering is identified as 37.47Ed.

Record Completeness: Good (79%)