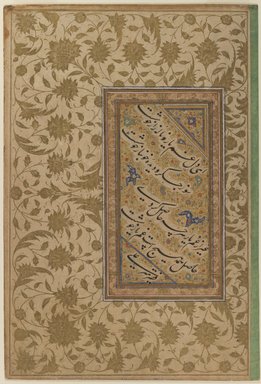 Sample of Calligraphy in Persian Nasta'liq Script
In the first centuries after the advent of Islam, Arabic calligraphy—alluding to the written word of God—was one of the main characteristics distinguishing the art of Islam from that of the preceding Byzantines and Sasanians in the Near East. In sixteenth-century Iran, calligraphy was a highly revered art form, visible in the public sphere in architectural inscriptions and, in more private and exclusive circles, collected by the court and wealthy elite to be assembled and enjoyed in albums. Samples such as the one shown here were often embellished with stylized floral and leaf patterns rendered in colorful pigments and gilding, remounted into beautifully ornamented and gilded margin papers, and bound together in albums and anthologies of poetry.
Calligraphy lessons comprised one of the many branches of a ruler's education, and some princes exhibited great talent for the art form. The signature following the skillfully executed verses on this page, however, suggests that a court calligrapher may have been responsible for this example. The lower left triangle reads, "faq?r Mir cAli [the poor Mir 'Ali]," which invites a possible attribution to the celebrated calligrapher Mir 'Ali Haravi (died 1544–45), active at the court in Herat until 1528, when he was captured and moved to Bukhara by the Uzbeks. One of the greatest masters of calligraphy of his time, Mir 'Ali was known to copy numerous manuscripts and poetic verses, some of which he even composed.
The verses read:
O hear, lamenting one's beloved and moaning with grief are a pleasure,

A tormented soul and bloodshot eyes [from weeping] are a pleasure.

If you have indulged in everything but the lamentation of your beloved,

All of that would amount to nothing—the anguish is what brings pleasure.
Calligrapher: Ali Haravi
Medium:

Ink, opaque watercolors, and gold on paper

Dates:

16th century

Period:

Safavid

Dimensions:

8 13/16 x 5 1/4 in. (22.4 x 13.3 cm)

(show scale)
Signature:

Mir 'Ali [al-Husaini al-Haravi]

Collections:Arts of the Islamic World
Museum Location: This item is not on view
Accession Number:

X629.6

Credit Line:

Brooklyn Museum Collection

Rights Statement: No known copyright restrictions
Caption: Ali Haravi. Sample of Calligraphy in Persian Nasta'liq Script, 16th century. Ink, opaque watercolors, and gold on paper, 8 13/16 x 5 1/4 in. (22.4 x 13.3 cm). Brooklyn Museum, Brooklyn Museum Collection, X629.6
Image:
Record Completeness: Good (68%)