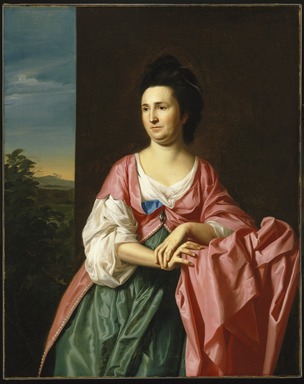 Mrs. Sylvester (Abigail Pickman) Gardiner
About 1760 Miguel Cabrera painted Doña María de la Luz, a Creole patron of well-known lineage, without the lengthy biographical inscription that often appeared in portraits of the period. His subject wears a fine silk brocade dress enhanced by jewelry and many chiqueadores, or glued false beauty spots made of black velvet.

John Singleton Copley, on the other hand, depicted his wealthy Boston sitter in a daring costume à la turque, which was all the rage in London and undoubtedly served to attest to Mrs. Gardiner's social status and modern taste. Her rather impassive gaze and exuberant wardrobe—traits she shares with her Spanish colonial counterpart—were at this moment hallmarks of prevailing taste in both empires.

Alrededor de 1760 Miguel Cabrera pintó a doña María de la Luz, mecenas criolla de conocido linaje, sin la larga inscripción biográfica que solía aparecer en los retratos de la época. La modelo lleva un fino vestido de brocado de seda, adornado con joyería y muchos chiqueadores (lunares falsos hechos de terciopelo negro).

Por otro lado, John Singleton Copley representa a su adinerada modelo bostoniana llevando un atrevido disfraz à la turque, al último grito de la moda en Londres, que indudablemente sirvió para dar fe del estatus social y gusto moderno de la Sra. Gardiner. Su mirada imperturbable y ropas extravagantes—rasgos que comparte con su contraparte colonial española—eran en esos tiempos sellos del gusto prevalente en ambos imperios.


This text refers to these objects: ' 65.60; 52.166.4