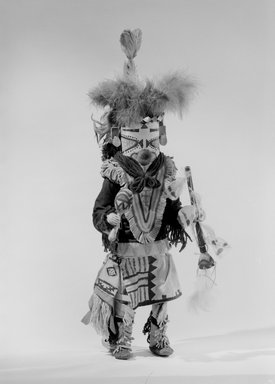 Kachina Doll (Paiyatemu)
Kachinas are representative of three types of entities within the religion of the Hopi and Zuni people. First, a Kachina is a spiritual ancestor who is a messenger to and from the gods. Second, a Kachina is a male dancer personifying these spirits. And third, a Kachina doll is carved as a secular representation of the spirits. Curator Stewart Culin identified this elaborate doll as Chilchi in his journals when he collected it at Zuni. However, no exact attribution can be made to a specific, known character, and it appears that Kachinas are so numerous and change so much over time that exact meanings and names of historical representations are often no longer known.

Religious ceremonies for the Hopi and Zuni people revolve around the cyclical calendar of seasons. During the time of the winter solstice, the invisible spirits of ancestors return to their villages as Kachina. Hopi and Zuni men, who belong to secret societies, believe that they actually assume the powers and persona of Kachina spirits when they enter the village dressed with painted skins, furs, and clothes and wearing the appropriate mask. During this period, several different occasions are held to dance, chant, and pray to the gods, who are believed to live in the distant mountains. These important ceremonies ensure rains for the coming agricultural season but also help renew all life. The Zuni and Hopi regard the life-size Kachina masks and clothing as sacred because of their religious, transformative powers.

Men, often a matrilineal uncle, carve Kachina dolls to give as gifts to young children during religious ceremonies. Since women cannot belong to the secret societies and become Kachina personifications and young boys are not members until they are initiated, these dolls help them learn about their religion. Children may therefore play respectfully with them or hang them on the walls of their homes. In the late nineteenth century, connoisseurs began to value and collect Kachina dolls as sculptural works of art, and Zuni and Hopi artists began making additional dolls for sale.

Culture: Pueblo, Zuni, Native American
Medium:

Wood, pigment, horsehair, feathers, wool, hide, cotton, tin, ribbon

Place Collected: Zuni, New Mexico, United States
Dates:

late 19th century

Dimensions:

22 1/2 x 9 x 8 in. (57.2 x 22.9 x 20.3 cm)

(show scale)
Collections:Arts of the Americas
Museum Location: This item is on view in Arts of the Americas Galleries, 5th Floor
Accession Number:

03.325.4631

Credit Line:

Museum Expedition 1903, Museum Collection Fund

Rights Statement: Creative Commons-BY
Caption: Pueblo, Zuni (Native American). Kachina Doll (Paiyatemu), late 19th century. Wood, pigment, horsehair, feathers, wool, hide, cotton, tin, ribbon, 22 1/2 x 9 x 8 in. (57.2 x 22.9 x 20.3 cm). Brooklyn Museum, Museum Expedition 1903, Museum Collection Fund, 03.325.4631. Creative Commons-BY
Image:
Catalogue Description:

Wooden kachina doll was identified as Chilchi by Stewart Culin however this kachina's mask and dress does not correspond to the kachina with the closest name, Chilili-and Chilili never carries or plays a flute. It is probably Paiyatemu, a kachina representing one of four youths who has two roles. One is during the corn grinding and fertility rituals in the Summer Dance series. When four maidens take their places to dance they play this type of flute as the maidens' song begins. Ribbons represent flowers. When he arrives with a different kachina, Hekshiva Shelowa, his body is black which may be why this kachina has black arms. He represents prayers and the return of good crops. He is also thought to be a powerful figure, an original medicine man. This elaborately dressed doll has a feather headdress and a fringed buckskin collar with a Maltese cross painted on the front. He has a bustle with ribbons on his back and carries a song flute and rattle.

Record Completeness: Best (83%)