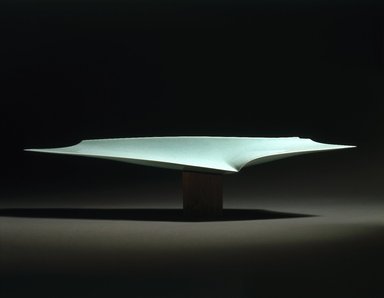 Infinity II (Shinso)
Alternately drawing upon and reacting to Japan's centuries-old history of ceramic making, contemporary artists have maintained Japan's role as a vital center for ceramic arts as they explore new uses and forms for the medium. Infinity II (Shinsho) is an exemplary work by the Kyoto artist Fukami Sueharu, who uses traditional ceramic materials to create conceptual sculpture. Fukami gained an international reputation in 1985 when he received the Grand Prize at the Faenza International Ceramic Exhibition in Italy. Born to a potter's family, he produces primarily porcelain pieces, ranging from utilitarian tableware thrown on a wheel to more expansive aesthetic statements in abstract form.

For this sculpture, Fukami used a pressurized casting method in which he pours white liquid clays of kaolin and petunse into a mold. He then carves the body at every edge and rim. After an initial firing, the delicate process of glazing is followed by a refiring in an electric kiln. The flawless texture and alluring color of this work derive from a long tradition of Chinese, Korean, and Japanese green-glazed wares. Neither freestanding nor functional, this object combines the blade-sharp edges, gently curved rims, and counter-curves or waves characteristic of Fukami's work.

Medium:

Porcelain with blue-green (seihakuji) glaze

Place Made: Kyoto, Japan
Dates:

1994

Dimensions:

11 x 47 5/8 x 9 1/2 in. (27.9 x 121 x 24.1 cm)

(show scale)
Collections:Asian Art
Museum Location: This item is not on view
Accession Number:

1994.146a-b

Credit Line:

Purchased with funds given by Alastair B. Martin

Rights Statement: © Fukami Sueharu
Caption: Fukami Sueharu (Japanese, born 1947). Infinity II (Shinso), 1994. Porcelain with blue-green (seihakuji) glaze, 11 x 47 5/8 x 9 1/2 in. (27.9 x 121 x 24.1 cm). Brooklyn Museum, Purchased with funds given by Alastair B. Martin, 1994.146a-b. © Fukami Sueharu
Image:
Catalogue Description:

From catalogue card: Originally designed in 1993. titled "Shinsho 'Ku'" (Image Infinity). 1994.146b is a wooden stand created by the artist). A ceramic sculpture molded in an expanding winged form with sharply pointed edges. The form highlights a deep concave area, which extends towards the softly curved ridges. The surface is flawlessly covered with a traditional sehakuji (blue-green) glaze. The piece was executed in a white-bodied kaolinite which is poured into a mold under high pressure. After the casting process, the artist then carves every edge and rim of the piece. The delicate process of glazing follows after the biscuit firing. The piece is finally refired at a temperature of approximately 1250 centigrade. The result is that a flawless translucent blue-green glaze produces a highly reflective, glass-like surface. Fukami Sueharu, the artist, is one of Japan's leading porcelain artists known as a perfectionist and specialist in glaze technique. He works in his studio in Kyoto, where the ceramic sculptures such as this work are produced in limited editions; the artist does all the work himself, from mixing the clay material to casting and glazing. The object arrived in its own wooden storage box. The artist also enclosed a wooden stand (1994.146.b), as well as his original instructions for assembling the piece on stand. (See "Fukami" correspondence file). 1/11/95 The artist wrote to Curator, claiming the English title "Sky (In the Distance II)," which was what the museum first believed was the title of the work, was not correct. He suggested original Japanese word "Ku" in the title implies "endless space," certainly not "sky." Asked about the date of production of the piece, he wrote in the same letter that he made the original plaster for the piece in 1993, and he altered the mold in 1994, from which the Brooklyn's piece was made. The edition number, however, continues; 2/8 is the edition number for the Brooklyn's version. (see "Fukami" correspondence file.) Box inscription had not been read as of March 1995. Condition: Both the sculpture and base are in excellent condition. Conservator also informed that the sculpture is signed: S. Fukami and the edition number is recorded (2/8), both on the rear PR side. These appear to have been incised in the piece after firing. (See Record of Restoration File, 12/14/94) The piece was purchased on behalf of the museum with funds donated by Alastair B. Martin. 9/19/95 Confirmed: edition number "2/8" and the artist's signature in English "S. Fukami" were inscribed on the surface of an unglazed area of the piece. The piece cannot be shown in the round. (The back of the piece is unglazed.)

Record Completeness: Best (83%)