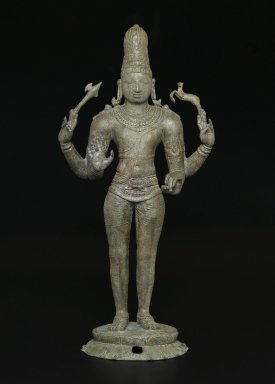 Shiva as Chandrashekhara
Bronze icons made under the reign of southern India's Chola dynasty are highly prized for their sensuous idealization of the human form. This figure of Shiva, the Hindu god of destruction, portrays the deity's power through his broad shoulders, strong legs, and four lively hands. Chandrashekhara is a form of Shiva worshipped primarily in southern India; the name derives from the thin crescent moon that decorates the front of the god's signature coiffure of matted hair. The leaping stag and the battle-ax refer to the god's role as lord of the animals and victor over all enemies.

We can tell that this image was used in worship because it is more worn on the front than on the back, the result of years of touching and anointing during temple rituals. Bronzes such as this one were also made for display in sacred processions: the holes in the base were used when securing the image to a litter or parade float.

Go behind the scenes to learn how the Museum acquired this object.

Medium:

Bronze

Place Made: Southern India, Tamil Nadu, India
Dates:

ca. 970 C.E.

Dynasty:

Chola dynasty

Dimensions:

25 3/4 x 12 x 7 3/4 in., 50.5 lb. (65.4 x 30.5 x 19.7 cm, 22.91kg)

(show scale)
Collections:Asian Art
Museum Location: This item is on view in Northwest Corner, Intro Gallery
Accession Number:

2007.2

Credit Line:

Gift of the Asian Art Council in honor of Amy G. Poster; additional funding from bequest of Dr. Samuel Eilenberg, by exchange; Bertram H. Schaffner Asian Art Fund; and gift of Dr. Andrew Dahl, David Ellis, Benjamin S. Faber, Martha M. Green, Dr. and Mrs. Eugene Halpert, Stanley J. Love, Anthony A. Manheim, Mabel Reiner, and Chi Tiew-lui, by exchange

Rights Statement: Creative Commons-BY
Caption: Shiva as Chandrashekhara, ca. 970 C.E. Bronze, 25 3/4 x 12 x 7 3/4 in., 50.5 lb. (65.4 x 30.5 x 19.7 cm, 22.91kg). Brooklyn Museum, Gift of the Asian Art Council in honor of Amy G. Poster; additional funding from bequest of Dr. Samuel Eilenberg, by exchange; Bertram H. Schaffner Asian Art Fund; and gift of Dr. Andrew Dahl, David Ellis, Benjamin S. Faber, Martha M. Green, Dr. and Mrs. Eugene Halpert, Stanley J. Love, Anthony A. Manheim, Mabel Reiner, and Chi Tiew-lui, by exchange , 2007.2. Creative Commons-BY
Image:
Catalogue Description:

Bronze icon of the Hindu god Shiva in his form as Chandrashekhara, or Lord of the Crescent Moon. The figure has four arms, the upper two holding a battle axe and a prancing deer, the lower two making gestures of reassurance and teaching. The figure wears his hair piled high in the chignon of matted locks that identifies Shiva, with curling locks draping over his shoulders in the back. A crescent moon is just visible at the front of the chignon, pointing upward. He wears jewelry typical of Chola-period sculpture, including "hand-shaped" armlets, a tight dhoti, and various collars and belts. It appears that the dhoti originally flared outward at both sides but because of damage or casting problems, the flaring elements have been removed and polished away. The figure stands on a flaring lotus base with square holes pierced through the front and back to attach the sculpture to a litter or cart for transport during temple processions. Shiva Chandrashekhara is worshipped primarily in southern India, where he is often displayed with his consort, Parvati. The straight posture of this icon suggests that it was either worshipped without a consort image (couples often lean in toward one another) or that the consort image was cast and displayed somewhat separately. The battle axe and deer make reference to an episode in which Shiva was attacked by non-believers and he caught both the weapon they threw at him and the wild stag that they sent to attack him. The deer became one of his great devotees and it represents the god's role as Lord of Animals. We can tell that this icon was worshipped because the front of the image is substantially more worn than the back. Touching and annointment are important elements of Hindu icon worship, and clearly this image was touched often at some point in its history. Bronze icons were made for display and worship on shrine altars inside temples but were often displayed during temple processions as well, and were occasionally transported to different temple buildings on special occasions. Bronze casting reached an apex in India in the tenth century under the patronage of the Chola dynasty of Tamil Nadu. Although masterful bronzes were made in this area for several centuries thereafter, those made in the tenth century are particularly prized for their balance of organic and ornamental qualities.

Record Completeness: Best (87%)