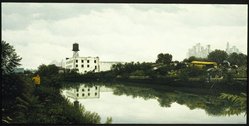 This image is presented as a "thumbnail" because it is protected by copyright. The Brooklyn Museum respects the rights of artists who retain the copyright to their work.
Gowanus Canal from 2nd Street
Gowanus Canal from 2nd Street is a meticulously executed image of an old Brooklyn industrial waterway. Amid the abundant vegetation, figures equipped with long poles search for something in the murky water. The large warehouse in the middle of this carefully balance composition seems to be abandoned. Car tires, wrecked buses, and cars on the right slowly change into the jagged outline of a cityscape in the background. The canal's still waters are embellished by the reflections of its environs. There is an inherent beauty in this melancholic scene. We begin to understand the attraction this human-made waterway has for Brooklyn residents. At present, the cleanup of the Gowanus Canal and plans for its recreational use are under way.