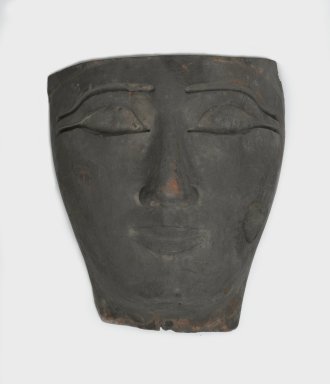 Face from an Anthropoid Coffin
The rectangular hole in the chin of this carefully modeled face once held a false beard, which identified the owner of the coffin with Osiris, the god of the afterlife. The incisions housed inlaid eyebrows, cosmetic lines, and eyes of glass or stones. The flat back of the face attached with pegs to a separately carved anthropoid coffin.

Although determining a date is difficult without the coffin or inscriptions, stylistic details—the softly drilled corners of the mouth, the hint of a smile, the substantial, straight nose, and the lack of paint—suggest the object was made late in the Third Intermediate Period.