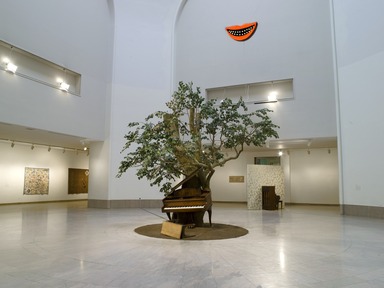 Blossom
The unusual appearance of Sanford Biggers' Blossom invites us to speculate about possible narratives that might explain how the piano and the tree came to form this visual conundrum. Knowing that the piano in Blossom plays "Strange Fruit" (in the artist's arrangement) does suggest a basic reading of the piece. In the late 1930s, the blues singer Billie Holiday popularized this protest song against lynching, a hate crime most often racially motivated:

Southern trees bear strange fruit,
Blood on the leaves and blood at the root,
Black bodies swinging in the Southern breeze,
Strange fruit hanging from the poplar trees.

Yet however tempting it may to regard Blossom as solely a piece about the atrocity of lynching, with the piano as a surrogate for a violated, broken human body, other important layers of meaning are present as well. For example, Biggers' evocation of the rich symbolism attached to the subject of trees by different cultures contributes to a "both/and" reading of the work. Biggers himself has said that his decision to make Blossom "was fifty percent influenced by Buddha finding enlightenment under a tree and fifty percent about the Jena 6 incident in Louisiana," an episode that involved the dangling of nooses from a tree near a racially troubled high school in Jena, Louisiana, in 2006. The unlikely combination of the origin of Buddhist transcendence and a contemporary instance of racism demonstrates his way of making objects with "both/and" meanings.

Medium:

Steel, silk, wood, MIDI player piano system, Zoopoxy, paint, dirt, modelling clay, polyurethane foam

Dates:

2007

Dimensions:

12 x 18 x 15 feet (365.9 x 548.8 x 457.3 cm)

(show scale)
Collections:Contemporary Art
Museum Location: This item is on view in South Gallery, 1st Floor
Exhibitions:
Accession Number:

2011.10

Credit Line:

Purchased gift of Toby Lewis, Charles and Amber Patton, and an anonymous donor, gift of the Contemporary Art Council, and the Mary Smith Dorward Fund

Rights Statement: ©Sanford Biggers
Caption: Sanford Biggers (American, born 1970). Blossom, 2007. Steel, silk, wood, MIDI player piano system, Zoopoxy, paint, dirt, modelling clay, polyurethane foam, 12 x 18 x 15 feet (365.9 x 548.8 x 457.3 cm). Brooklyn Museum, Purchased gift of Toby Lewis, Charles and Amber Patton, and an anonymous donor, gift of the Contemporary Art Council, and the Mary Smith Dorward Fund, 2011.10. ©Sanford Biggers
Image:
Record Completeness: Good (62%)