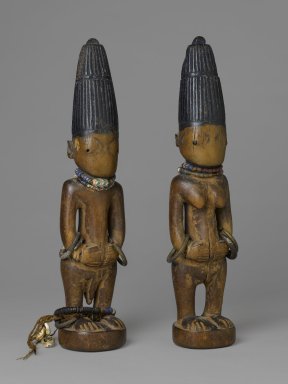 Pair of Twin Figures (Ere Ibeji)
ART OF DOUBLES
Duality is present in art throughout the continent as an expression of essential concepts that drive human nature—from gender to humanity's place in the cosmos. This pair of pairs illustrates some of the ways that artists have expressed these ideas.

Ere ibeji are carved by the Yoruba primarily as memorial figures for twins. Because twins are considered spiritually powerful beings, with power to provide considerable good or to inflict harm, ibeji figures are the focus of great personal interaction and care. Such figures are considered a point of access to the spirit of a departed twin, and an icon of status for a mother of twins.

Worn on the heads of male dancers, ci-wara headdresses are danced in male and female pairs to symbolize the fertility of land and animals. Each headdress represents an antelope, which for the Bamana is a metaphor for the successful farmer who tirelessly tills his fields.

This text refers to these objects: ' 77.245.1; 77.245.2; 2010.22.1a-b
Culture: Yoruba
Medium:

Wood, pigment, beads, metal, cowrie shells

Geographical Locations:
Dates:

late 19th-early 20th century

Dimensions:

a: 12 x 2 1/2 x 2 1/2 in. (30.5 x 6.4 x 6.4 cm) b: 11 1/2 x 2 x 2 1/2 in. (29.2 x 5.1 x 6.4 cm)

(show scale)
Collections:Arts of Africa
Museum Location: This item is on view in Double Take Installation, East Gallery, 1st Floor
Exhibitions:
Accession Number:

2010.22.1a-b

Credit Line:

Gift of the Coltrera Collection

Rights Statement: Creative Commons-BY
Caption: Yoruba. Pair of Twin Figures (Ere Ibeji), late 19th-early 20th century. Wood, pigment, beads, metal, cowrie shells, a: 12 x 2 1/2 x 2 1/2 in. (30.5 x 6.4 x 6.4 cm). Brooklyn Museum, Gift of the Coltrera Collection, 2010.22.1a-b. Creative Commons-BY
Image:
Catalogue Description:

a: Male figure, with feet carved from undecorated rounded base. Figure wears a metal ring and 3 cowrie shells tied with rope on right ankle; further rope is wound around both feet. The figure has articulated genitals, partially obscured by a waist cord of flat, indigo discs and faceted blue and white beads, resting above protruding hips. Hands meet flush above the abdomen, with metal bracelets on both wrists. Two necklaces obscure the neck, one composed of small, round beads, the other with discs and a larger multi-color bead. Figure has cowrie-shaped, articulated ears, a worn, smooth face, and large, slightly projecting eyes, missing both of the metal inserts that once defined the pupils. A tall, conical coiffure is striated and covered in blue pigment, with a ring carved 2/3 to the top, and a bun surmounting. Some of the pigment has dripped below the hairline, and down the back of the head. Condition: good. Figure has a worn patina, with a surface chip to the right temple, losses to right wrist. b. Female figure, with feet carved from undecorated rounded base. Beads missing from articulated waist, defined by protruding hips. Hands meet flush above the abdomen, with 2 metal bracelets on the left wrist, one on the right. Projecting breasts are joined at the shoulders. Two necklaces of alternating shapes and colors obscure the neck. Figure has cowrie-shaped, articulated ears, a worn, smooth face, and large, slightly projecting eyes, containing metal inserts as the pupils. tall, conical coiffure is striated and covered in blue pigment, with a ring carved 2/3 to the top, and a bun surmounting. Some of the pigment has dripped below the hairline, and down the back of the head and onto the neck. Condition: good. Losses to right wrist, surface loss to upper back/left of coiffure, color possibly supplemented later.

Record Completeness: Best (85%)