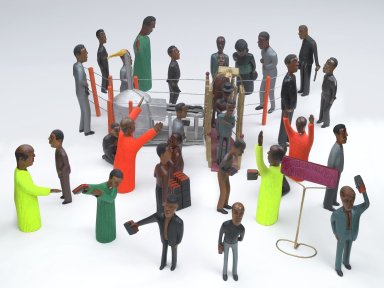 Welcome in Our Peace World
Anticipating South Africa's first multiracial elections, which would sweep Nelson Mandela to power the following year, Welcome in Our Peace World addresses the transition from the armed liberation struggle against "whites-only" apartheid into a new democratic era. Segogela suggests the need for South Africans to cast their weapons into the furnace. The fenced-in security apparatus, guarded by armed soldiers, recalls the passing apartheid era. The Bible-wielding preachers on the other side are more ambiguous, evocative of redemption, but also perhaps of new forms of division.

Segogela's works are informed by both his political engagement and his devout Christian beliefs. His compositions demonstrate a deep-seated concern with themes of salvation and redemption, tempered by humor and satirical distance.

Medium:

Wood, paint, wire, synthetic fiber

Geographical Locations:
Dates:

1993

Dimensions:

17 1/2 x 38 x 66 in. (44.5 x 96.5 x 167.6 cm) [variable]

(show scale)
Signature:

M.J. Segogela, P15, Sekhurhuiie

Collections:Arts of Africa
Museum Location: This item is not on view
Exhibitions:
Accession Number:

2010.42

Credit Line:

Gift of Jerome L. and Ellen Stern

Rights Statement: © Johannes Mashego Segogela
Caption: Johannes Mashego Segogela (South African, born 1936). Welcome in Our Peace World, 1993. Wood, paint, wire, synthetic fiber, 17 1/2 x 38 x 66 in. (44.5 x 96.5 x 167.6 cm) [variable]. Brooklyn Museum, Gift of Jerome L. and Ellen Stern, 2010.42. © Johannes Mashego Segogela
Image:
Catalogue Description:

A figural assemblage, consisting of 39 individually carved elements, representing a scene in which men and women are processed through a fenced-in security apparatus by soldiers with guns, emerging on the other side surrounded by figures holding Bibles. The individual pieces are as follows: PC1: Male figure with gun in (L) hand, suitcase in (R) hand. PC2: Female figure with child on her back, in a green wrapper; she carries a suitcase in her (R) hand. PC3: Male figure in dark brown suit, with gun in (R) hand, (L) hand at chest. PC4: Male figure of a preacher in green robes, with Bible in (R) hand, (L) hand straight at side with additional Bible. PC5: Small male figure in a grey suit, with both hands on a gun held at (R) waist. PC6: Male figure in dark suit, with gun in lower (L) side, (R) hand at waist. PC7: Large male figure in grey suit, with both hands held over abdomen; (R) foot extended. PC8: Male figure in dark suit, gun in (R) hand, (L) hand on abdomen; (R) foot extended. PC9: Bearded male figure in red suit, with satchel at (L) shoulder/side. PC10: Female figure in black hat, carrying a child in white wrapper. PC11: Male figure in grey suit, with (L) hand on chest; leaning at waist. PC12: Large male figure in grey suit, both hands on rifle held across the chest. PC13: Male figure in grey suit, holding gun (broken). PC14: Kneeling male figure in dark grey suit, hands clasped. PC15: Kneeling male figure in dark red suit, holding Bible. PC16: Male figure of a preacher in a yellow robe, (L) hand on Bible, (R) hand outstretched. PC17: Large male figure of a preacher in red robes, both hands raised; head titled to (L). PC18: Large male figure in black suit and red shirt, with hands at side. PC19: Small male figure of a preacher in red robes, with both hands raised; head looking forward. PC20: Kneeling male figure in dark red suit, with both hands clasped. PC21: Male figure with a receding hairline in a grey suit, with hands at his side. PC22: Male figure of a preacher in yellow robes, (L) hand raised, (R) hand on Bible. PC23: Male figure in dark red suit, holding a Bible in both hands; bent at waist. PC24: Male figure in red suit, (L) arm raised, hand on chest. PC25: Male figure in grey suit, (L) hand raised with Bible. PC26: Male figure in grey sweater and necktie, with Bible in (R) hand at side. PC27: Male figure in black suit, (R) hand outstretched with Bible. PC28: Male figure, balding, in black suit with (L) hand at back, (R) holding Bible. PC29: Male figure in light brown suit, (L) hand on abdomen. PC30: Male figure of a preacher in green robes, with Bible in (R) hand; bent slightly at waist. PC31: Gold security screening apparatus and passageway. PC32: Grey incinerator and conveyor belt. PC33: Black rifle (on conveyor belt). PC34: Stack of black and red Bibles. PC35: Sign reading "Welcome in Our Peace World." PC36: Fence portion, consisting of 2 orange posts, wires; bent at an angle; for (L) side of security machine. PC37: Long fence portion, consisting of 4 orange posts, wires; end bent at an angle (for (R) side of security machine, and partially to contain incinerator). PC38: Short fence portion, consisting of 1 orange post, wires (to contain incinerator). PC39: Fence portion, consisting of 2 orange posts, wires (to contain incinerator).

Record Completeness: Best (88%)