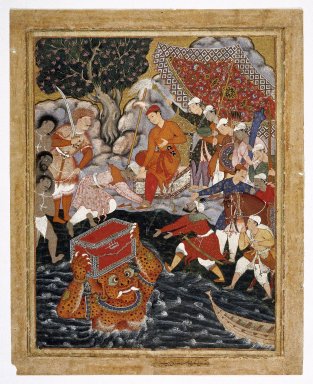 Arghan Div Brings the Chest of Armor to Hamza
The Hamzanama recounts the picturesque exploits of Hamza, the uncle of the Prophet Muhammad. The Mughal emperor Akbar (ruled 1556–1605) ordered his artists to prepare an illustrated copy of the Hamzanama on a scale never seen before: 1,400 paintings on sheets of paper backed with cloth. Literary sources record that though more than fifty painters busied themselves with the colossal undertaking, it took fifteen years to complete. Four of the folios are held by the Brooklyn Museum.

This painting depicts the demon Arghan bringing a casket of arms to Hamza. Emerging from the water, here rendered by frothy, curling waves, he presents a seemingly ferocious aspect with his spotted skin, flaming eyes, and sharp fangs projecting from a mouth with a rather frozen grimace. On the shore is Hamza, seated on a throne beneath a bright canopy held up by two poles and ropes. His sovereign status is indicated by a row of attendants on his left, carrying such insignia as the yak-tail whisk that is waved over Hamza's head.

Culture: Indian
Medium:

Opaque watercolor and gold on cotton

Place Made: India
Dates:

1562-1577

Dynasty:

Mughal

Dimensions:

sheet: 31 1/8 x 24 15/16 in. (79.1 x 63.3 cm) image: 26 5/8 x 20 11/16 in. (67.5 x 52.5 cm)

(show scale)
Collections:Asian Art
Museum Location: This item is not on view
Exhibitions:
Accession Number:

24.47

Credit Line:

Museum Collection Fund

Rights Statement: No known copyright restrictions
Caption: Indian. Arghan Div Brings the Chest of Armor to Hamza, 1562-1577. Opaque watercolor and gold on cotton, sheet: 31 1/8 x 24 15/16 in. (79.1 x 63.3 cm). Brooklyn Museum, Museum Collection Fund, 24.47
Image:
Catalogue Description:

The painting depicts the demon Argan bringing a casket of arms to Hamza. Emerging from the water, here rendered by frothy, curling waves, he presents a seemingly ferocious aspect with his spotted skin, flaming eyes and sharp fangs projecting from a mouth with a rather frozen grimace. On the shore is Hamza seated on a throne beneath a bright canopy held up by two poles and ropes. His sovereign status is indicated by a row of attendants on his left, carrying such insignia as the yak-tail whisk which is waved over Hamza's head. A man kneels before him, touching his feet in obeisance. On his right is an attendant holding an unsheathed sword over the shoulder as he holds ropes around the necks of three scantily clad and bare-headed prisoners. Below, to Hamza's left, is a man stepping forward vigorously, gesticulating at the monster, while behind this man are other attendants, some of whom hold a finger to their lips in the gesture of wonder and amazement that appears in Indian art with the sculptures at Bharhut from the second century B.C. onwards. The rocks are painted as a pile of soft-edged boulders and the single tree bearing dense leaves and flowers has a stout trunk painted in rippling brushstrokes. In quality this painting seems to be fairly standard, with conventional grouping of figures and average workmanship. The text on the reverse makes a reference to the demon carrying Hamza's armoury on his head but does not explain other features. Here, as in other illustrations, we do not find a direct relationship between the painting and the text on the reverse. (Quoted from John Seyller, public lecture, 1994) Catalogue Card: Cotton cloth, gouache colors, gold illumination. Offering the weapon chest to Amir Zuruck. Large single framed and matted illustrated page from the "Dastan-i-Amir Hamzah," (Romance of Amir Hamzah), the Persian story of the life of Amir Hamzah, uncle of the prophet Muhammad. The illustration portrays Argan Div (demon) bringing the weapon chest to the Amir Zuruck [figure since re-identified]. It is painted in gouache colors on cotton which has been treated with a slip of lime and gum Arabic and polished. The text on the reverse is written in Persian Nastalique on rag paper. The manuscript was largely written and illustrated at the Court of Akbar from 1567-1582/1562-1577 by Mir Sayyid of Ali of Tabriz and Khawji Abdus Samad of Shiraz, aided by many Indian artists, although the work was ordered by Akbar's father Humayun in 1550 on his return to Kabul from exile. The general style is in the Persian miniature tradition, but the colors, costumes, foliage and architecture are all Indian. In the illustration, the Div (an orange colored demon with black spots), is seen rising out of the stream with a red chest on his head. The Amir is seated on a canopied throne on the bank, surrounded by his followers. There are rocks and a tree in the background.

Record Completeness: Best (92%)