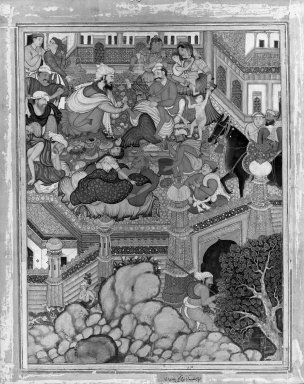 Umar, Disguised as Mazmahil the Surgeon, Practices Quackery on the Sorcerers of Antali
When the Mughal emperors conquered northern India, they brought with them a taste for Persian aesthetics. Early in their reign, the Mughals brought Persian artists from Iran to teach painting techniques and styles to artists in India. The product of this bicultural painting workshop looks very different from both Persian and indigenous Indian painting, in part because the artists were looking at European art as well. This is a folio from the oversized manuscript known as the Qissa-i Amir Hamza, or Hamza-Nama, one of the most ambitious projects completed by the imperial painting workshop under the Mughal emperor Akbar (reigned 1556–1605). All of the paintings are on cloth, with Persian text written on paper glued to the reverse. It is thought that the pages were made for use in storytelling performances, where one person held up a painting for an audience while another read from the back of a different folio.

The Hamza-Nama is a magical adventure tale about the first generations of Muslims; the protagonist, Amir Hamza, is the uncle of the Prophet Muhammad. This painting is typical of the series, with multiple figures in expressive postures set within a sumptuously decorated courtyard. It illustrates one of the story's heroes, Amr, posing as a doctor to gain entrance to a community of sorcerers, then drugging them in order to free one of his comrades. The story implies that sorcerers' powers are limited and corrupt because they can neither cure their own illnesses nor recognize quackery.

Culture: Indian
Medium:

Opaque watercolor and gold on cotton, mounted on paper

Place Made: India
Dates:

ca. 1570

Dynasty:

Mughal

Dimensions:

31 x 25 in. (78.7 x 63.5cm) 26 3/4 x 20 5/8 in. (67.9 x 52.4cm) frame: 37 3/8 x 30 1/8 x 2 1/2 in. (94.9 x 76.5 x 6.4 cm)

(show scale)
Markings:

Inscription (84) at bottom of page

Collections:Asian Art
Museum Location: This item is not on view
Exhibitions:
Accession Number:

24.49

Credit Line:

Caroline H. Polhemus Fund

Rights Statement: No known copyright restrictions
Caption: Dasavanta. Umar, Disguised as Mazmahil the Surgeon, Practices Quackery on the Sorcerers of Antali, ca. 1570. Opaque watercolor and gold on cotton, mounted on paper, 31 x 25 in. (78.7 x 63.5cm). Brooklyn Museum, Caroline H. Polhemus Fund, 24.49
Image:
Catalogue Description:

This painting of the "Qissa" (Accession no. 24.49) is identified as Book 11, 84 r. by Sheila Canby and is one of a series of three which depict the entry of Amr and his companions into the fort of Zumurud Shah and his sorcerers disguised as a physician and his attendant. Once in, they proceed to drug the sorcerers and rescue their captives. In the immediate foreground, opposite the massive palace gate flanked by two towers, arises a large craggy hill beyond which are tiny figures of shepherds herding their flock, and to the right a traveler carrying a box slung on a pole walking past a large tree. In contrast to this quiet mood the scene inside the palace is one of utmost agitation. Amr, in disguise, attends to the sick and emaciated sorcerer whose thin and wasted body is emphasized by the massive robes in which he is swathed. The man, supported by a concerned attendant, leans forward to have his pulse taken by the doctor. Figures in a state of great apprehesion and nervous agitation can be seen all around. These include a shrieking woman carrying a child who clings frantically to her neck while she grasps another child by the wrist. Across the courtyard is a young frightened woman who has thrown herself on a much older woman lying on a bed, clinging to her by the arm and the shoulder. The bed rocks violently, this being skillfully suggested by the wildly fluttering bed-cover edges, reinforcing the tumultuous happenings all around. Among other sensitively observed figures is a man hastily tying his turban, ready to spring into action, while the man next to him has dozed off, cradling his head in an arm. Scattered all over the floor are assorted bags containing medicaments. Adding to the noise and confusion is a servant pounding away in a large mortar. He is presumably preparing the medicine prescribed. The horse attended by grooms to the right, tongue extended, one leg raised impatiently reinforces the restless atmosphere. (Quoted from Pramod Chandra in "Realms of Heroism: Indian Paintings from the Brooklyn Museum" NY, Hudson Hills, 1994) From 1st Catalogue card: Amr, disguised as Doctor Muzmahil, treating sorcerers in a Courtyard is the third in a series of extant paintings illustrating the entry of Amr and his companion Yakdam into the fort of Zumurrud Shah at Antalya. Once inside the fort, Amr, Amir Hamza's boon companion, here disguised as a doctor, drugged the sorcerers and freed the prisoners taken by the giant Zumurrud Shah. Milo Beach has convincingly attributed and the two that precede it (in the Freer Gallery and the Museumfur Angewandte Kunst in Vienna) to the artist Mahesh. Beach characterizes his style as follows: "His figures can be immensely lively, as shown by gesture, stance, and facial expression, and this animation is enhanced by generally bright colors. Even the early pages show a developed delight in bearded faces and an ability to make mustaches expressive. The smooth, distinctive forms he develops for mountains remain relatively unchanged throughout his career." In addition, Mahesh has a preference for bundles of drapery with thick folds, particularly evident here in the turban and other clothing of the sorcerer being treated by Amr. Vignettes such as the shepherds outside the fort's walls and highly individualized figures also characterize his work. From 2nd Catalogue Card: Cotton cloth, gouache colors, gold illumination. Large single framed and matted illustrated page from the "Dastan-i-Amir Hamzah," (Romance of Amir Hamzah), the Persian story of the life of Amir Hamzah, uncle of the prophet Muhammad. The illustration shows Dr. Muzmahil doctoring sorcerers in a courtyard. the walls of the city and rocks outside take up the foreground. The paint is slightly chipped. It is painted in gouache colors on cotton which has been treated with a slip of lime and gum Arabic and polished. The text on the reverse is written in Persian Nastalique on rag paper. The manuscript was largely written and illustrated at the Court of Akbar from 1567-1582/1562-1577 by Mir Sayyid of Ali of Tabriz and Khawji Abdus Samad of Shiraz, aided by many Indian artists, although the work was ordered by Akbar's father Humayun in 1550 on his return to Kabul from exile. The general style is in the Persian miniature tradition, but the colors, costumes, foliage and architecture are all Indian.

Record Completeness: Best (93%)