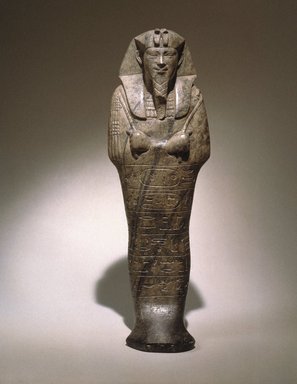 Ushabti of Senkamanisken
ART OF WRITING
Both of these works, separated by many centuries, use the human body as a platform for expressing and displaying script.

Shabtis are funerary figures intended to do the agricultural work the gods might require of the deceased, represented here holding hoes. The hieroglyphic inscription on this figure is a spell from the Book of the Dead, asking the shabti to do the Nubian king Senkamanisken's work for him in the afterlife.

Owusu-Ankomah's paintings depict a spiritual world occupied by people and symbols. The male figure in this work is covered by, and moves within, Akan adinkra symbols from the artist's native Ghana, each of which graphically represents a particular concept or proverb. Looking Back Into the Future depicts a nude man with his head turned backward, in a pose associated with the Akan proverbial concept of sankofa ("one must know the past to know the future").

You can see a contemporary version of adinkra cloth among the "touch" textiles around the corner.

This text refers to these objects: ' 39.5; 2014.32.1