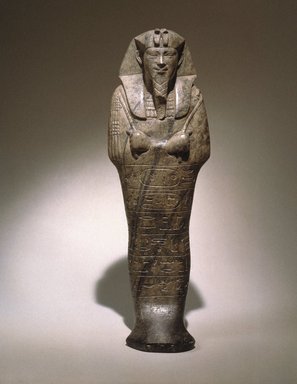 Ushabti of Senkamanisken
Even after the Kushite dynasty was forced to withdraw frpm Egypt, the Kushite kings continued to adopt Egyptian customs in the manner of the Kushite rulers who had controlled all or part of Egypt in Dynasty XXV. Thus the Kushite king Senkamanisken, who ruled only over his own homeland of Kush, is shown here in traditional Egyptian regalia. Although the double uraeus (vulture and cobra emblem) on his brow is a fiction, signifying dominion over northern and southern Egypt, it is typical of Kushite royal sculpture. The king holds the crook and flabellum (fly whisk), insignias of kingship.
This shabti, or funerary figurine, is typical of the nearly 1,300 figurines found in Senkamanisken's pyramid at Nuri, the royal necropolis in the Kushite capital of Napata. Inscribed on the lower half of the figurine are six lines from Chapter 6 of the Book of the Dead, perhaps the most extensive compilation in all Egyptian funerary literature. On the bottom of the base is a sign or signs of uncertain origin and meaning.