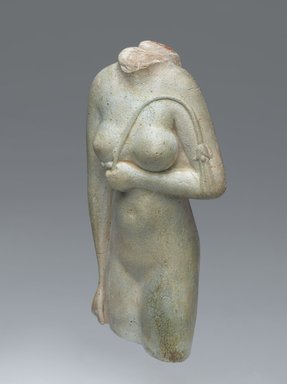 Headless Statuette of a Female
The shapely forms of this statuette are characteristic of the ideal feminine body type of the Ptolemaic Period. During Greek rule, full thighs, a fleshy stomach, and round breasts replaced the leaner model of feminine beauty from earlier pharaonic history. Since Egyptians rarely depicted women naked, this figure wears a tight-fitting dress, the outlines of which were visible on the now missing ankles.

It is difficult to identify the subject precisely without an inscription or the head, which was likely decorated with attributes identifying the figure. The lily-scepter, held by both goddesses and queens, adds to the statuette's mystery.