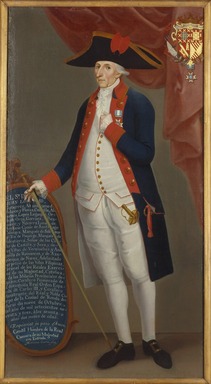 Don Juan Lorenzo Gutiérrez Altamirano de Velasco y Flores, Count of Santiago de Calimaya
Military service was one of the most effective means by which American-born colonials, barred from the highest civic and ecclesiastical offices, could secure elite status within the imperial system. Don Juan Lorenzo, captain in the viceregal palace guard, was among New Spain's highest-ranking Creoles. Like Tadeo Bravo, seen in the nearby painting, Don Juan Lorenzo signaled his coveted ties to the Madrid court in a full-length portrait he displayed at home. Here, a gold key protruding from his coat pocket symbolizes his appointment as Gentleman of the Royal Chamber of His Majesty.


El servicio militar era uno de los medios más efectivos a través de los cuales la élite colonial nacida en América, excluida de los cargos civiles y eclesiásticos más altos, podía asegurar su estatus en el sistema imperial. Don Juan Lorenzo, capitán de la guardia del palacio virreinal, se contaba entre los criollos de mayor rango en la Nueva España. Como Tadeo Bravo, representado en una de las pinturas cercanas, don Juan Lorenzo aludía a sus codiciados lazos con la corte madrileña en un retrato de cuerpo entero que exhibía en su casa. Aquí, la llave de oro que sobresale de su abrigo simboliza su nombramiento como Gentil Hombre de la Real Cámara de Su Majestad.


Medium:

Oil on canvas

Place Made: Mexico
Dates:

ca. 1790

Dimensions:

73 1/2 x 38 1/2 in. (186.7 x 97.8 cm) frame: 83 x 49 1/4 x 4 in. (210.8 x 125.1 x 10.2 cm)

(show scale)
Signature:

Signed lower left at bottom of cartouche: "Mariannus Guerrero fecit."

Inscriptions:

Inscribed on cartouche at left: "El Sr. Dn./Juan Lorenzo,/Gutierrez Altam[ir]ano d./Velasco y Flores, Cas[t]illa, Al=/bornós, Lopez Legaspi, Or=/[t]iz de Oraa, Gorraez, Bea=/ mont; y Navarra Luna de/Arellano: Conde de Santi=ago/[C]alimaya, Marqués de Sali=nas/[d]el Rio Pizuerga/Marqués de [S]alvatierra, Señor de las Ca=/[s]as Villas de Verninches, y Azu=/[q]uilla de Romancos, y de Azu=/quequa de Nares, Adelantado/[P]erpetuo de las Yslas Filipinas,/[C]oronel de los Reales Exerci=/os de su Magistad, Catolica,/de las Milicias Provinciales de/[M]éxico; Cavallero Pensionado de/[l]a distinguida Real Orden Espa=[n]ola de Carlos III, y Cavallero/[M]aestrante del Real y Noble Cu=/erpo de la Ciudad de Ronda &c./[M]urió dia nueve de Octubre/del año de mil setecientos no=/venta y tres, à los sesenta/años dos meses de edad." "Requiescat in paze Amen./Gentil Hombre de la real/Camara de su Magestad/con Entrada." Note: bracketed letters are either obscured by subject hand or walking stick or are obscured by the left edge of the canvas or frame.

Collections:European Art
Museum Location: This item is on view in Luce Visible Storage and Study Center, 5th Floor
Exhibitions:
Accession Number:

52.166.2

Credit Line:

Museum Collection Fund and Dick S. Ramsay Fund

Rights Statement: No known copyright restrictions
Caption: Mariano Guerrero (Mexican, active late 18th century). Don Juan Lorenzo Gutiérrez Altamirano de Velasco y Flores, Count of Santiago de Calimaya, ca. 1790. Oil on canvas, 73 1/2 x 38 1/2 in. (186.7 x 97.8 cm). Brooklyn Museum, Museum Collection Fund and Dick S. Ramsay Fund, 52.166.2
Image:
Catalogue Description:

Don Juan Lorenzo Gutierrez Altamirano Velasco (1733-1793). An oil painting by Mariannus Guerrero with his signature. The shield by his right hand on the left side of the picture gives his titles and dates. Don Juan Lorenzo is the son of Don Juan Xavier and his portrait is 52.166.1. Don Juan Lorenzo is shown full length in a three-quarter pose in the uniform of a colonel of the Spanish Army. The trousers and vest are white, and the coat and hat are blue with gold trimmings. The order of Charles III hangs from his coat and from the coat of arms in the upper right hand side of the picture. The key to the Royal Palace can be seen in his left coat pocket and a sword shows from under the left side of his coat. He holds a staff in his right hand and his left hand is in his vest. Condition: Fairly good though there are cracks exposing the canvas in the upper left hand sides.

Record Completeness: Best (87%)