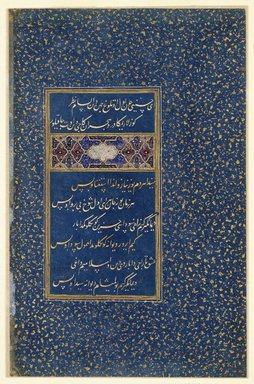 Folio of Poetry From the Divan of Sultan Husayn Mirza
The most highly revered artistic form in the Islamic world is calligraphy. The high regard for it stems from the great significance of the word in Islam, specifically from the central importance of the Qur'an, which for Muslims is the direct word of God revealed to mankind. From the earliest times, calligraphers in the Islamic world strove to create beautiful forms, and this often led to great inventiveness in displaying the art of the word.

This page is from one of the best-known compendia of calligraphed verses from the medieval Islamic world: the Diwan (Anthology) of poems by the Timurid prince Sultan-Husayn Bayqara of Khorasan (northeastern Iran and Afghanistan, reigned 1470–1506). The verses in this anthology were produced in the rare technique of découpage, a term derived from the French verb découper (to cut out). The Chaghatai Turkish verses in nastacliq (literally, "hanging") script on this page are made from small bits of precisely cut, multicolored paper glued to the luxurious indigo-dyed support sheet.

Attributed To: Sultan 'Ali Mashhadi, Persian, 1442-1519
Medium:

Ink, opaque watercolors, and gold on indigo blue ground, with découpage and gold-flecked border

Place Made: Herat, Afghanistan
Dates:

ca. 1490

Dynasty:

Timurid

Period:

Timurid

Dimensions:

8 7/8 x 5 1/4 in. (22.5 x 13.3 cm)

(show scale)
Inscriptions:

In Chaghatai Turkish, "O Husayni, when I cast a glance at the fiery countenance, fire catches in my eyes from the blow of the pain of separation. In me there are a hundred entreaties every moment; in him/her is nothing but disdain. Every moment I die a hundred deaths; that beauty is unconcerned. Say not that in your mournful heart is the melancholy over his/her tress, for in my mad heart is that same melancholy. My religion and Islam have been lost to love's plunder. Say not that I have only become mad for him/her." Translated by Professor Wheeler M. Thackston, Harvard University

Collections:Arts of the Islamic World
Museum Location: This item is not on view
Accession Number:

45.4.3

Credit Line:

Ella C. Woodward Memorial Fund

Rights Statement: No known copyright restrictions
Caption: Sultan 'Ali Mashhadi (Persian, 1442-1519). Folio of Poetry From the Divan of Sultan Husayn Mirza, ca. 1490. Ink, opaque watercolors, and gold on indigo blue ground, with découpage and gold-flecked border, 8 7/8 x 5 1/4 in. (22.5 x 13.3 cm). Brooklyn Museum, Ella C. Woodward Memorial Fund, 45.4.3
Image:
Catalogue Description:

These four couplets of poetry in fine nasta'liq script were not written with a pen. Instead, the letters were meticulously cut from colored paper and pasted onto the dark blue paper. This technique, known as qit'a, or découpage, is used on this leaf and other leaves of this dispersed manuscript of the Divan (Anthology) of Sultan Husayn Mirza (r. 1470-1506). Although we do not have concrete proof, this page has been attributed to the great master of calligraphy Sultan 'Ali Mashhadi on technical and stylistic grounds (Welch 1979, 170). A great-great-grandson of Timur (r. 1370-1405), Sultan Husayn Mirza ruled over the northeastern Iranian province of Khorasan from 1470 until his death in 1506. He was not only a patron of the arts, but also a poet of considerable talent. Along with his closest friend, Mire 'Ali Shir Nava'i (1440-1501), also a poet of great distinction, he was responsible for establishing Chaghatay Turkish as a major literary language (ibid.). The verses on this folio, from a ghazal, or sonnet, composed by Sultan Husayn Mirza himself, have been translated from Chaghatay Turkish into English by Professor Wheeler M. Thackston: O Husayni, when I cast a glance at the fiery countenance, fire catches in my eyes from the blow of the pain of separation. In me there are a hundred entreaties every moment; in him/her is nothing but disdain. Every moment I die a hundred deaths; that beauty is unconcerned. Say not that in your mournful heart is the melancholy over his/her tress, for in my mad heart is that same melancholy. My religion and Islam have been lost to love's plunder. Say not that I have only become mad for him/her. The word for "melancholy" (sawda) in the lines above also means "blackness," which accords with the blackness of the beloved's tress of hair. Other folios of calligraphic découpage from this manuscript are found in the Sadruddin Aga Khan Collection, the Freer Gallery of Art, Washington, D.C., the Los Angeles County Museum of Art, and in an album made for the Ottoman Sultan Murad III (r. 1574-95) now in the National Library of Austria (Vienna, Österreichische Nationalbibliothek Cod. Mixt. 313). [By Maryam Ekhtiar, from "Journey Through Asia" catalogue]

Record Completeness: Best (92%)