Search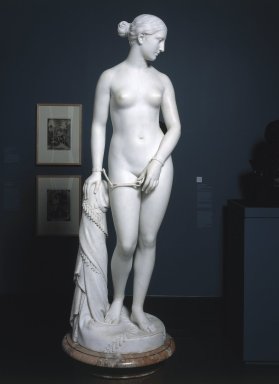 | | |
| --- | --- |
| Accession # | 55.14 |
| Artist | Hiram S. Powers |
| Title | The Greek Slave |
| Date | 1869 |
| Medium | Marble |
| Dimensions | Statue: 65 1/2 x 19 1/4 x 18 3/4 in. (166.4 x 48.9 x 47.6 cm) Height of pedestal: 30 1/4 in. (76.8 cm) |
| Signed | Incised along edge of base behind post: "H POWERS / [in script] Sculp" |
| Credit Line | Gift of Charles F. Bound |
| Location | American Identities: Everyday Life / A Nation Divided |
| Description | Life-size figure of idealized nude female standing in contrapposto pose on round base; head turned to left and slightly downward; hands bound together with chains with proper left hand over genitalia and proper right hand leaning on post draped with patterned cloth. Condition: Good. |
Curatorial Remarks:
Iago's Mirror
is an example of Fred Wilson's interest in investigating the racial implications of color and the African Diaspora in a global context. Working with a Venetian glass studio to create his opulent Baroque-style framed mirror, Wilson reversed the centuries-old mirror-making tradition by etching on the front and painting the back surface black to create a ghostlike reflected image. The piece continues a line of exploration that Wilson introduced in an installation at the 2003 Venice Biennale, where he examined the black African presence in Venetian art and culture and experimented for the first time with black Venetian glass. The mirror's title refers to the character who betrays and destroys Shakespeare's Othello, perhaps the most famous black figure in English literature.
The placement of
Iago's Mirror
in strategic proximity to Hiram Powers's
The Greek Slave
creates a shaded reflection indicative of the alternate meaning of the marble sculpture.
The Greek Slave
, executed in six full-scale versions between 1843 and 1866, was widely appreciated by American audiences, especially those sympathetic to the antislavery movement as it gathered momentum at midcentury. The sculpture's representation of a young Christian woman who retains her spiritual purity even as she is sold into slavery during the epic Greek War of Independence against the Turks in the 1820s compelled viewers to consider the more immediate plight of black women enduring this abuse at the hands of Christian men in America. One British cartoonist recast the figure as an enslaved African American and thus an indictment of American hypocrisy (see illustration).