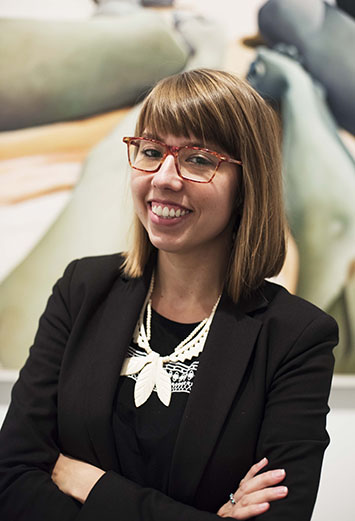 Carmen Hermo
Assistant Curator, Elizabeth A. Sackler Center for Feminist Art
Carmen Hermo joined the Elizabeth A. Sackler Center for Feminist Art's curatorial team as Assistant Curator in June 2016. She is organizing and co-curating several of the initiatives and exhibitions celebrating the upcoming 10th anniversary of the Sackler Center, A Year of Yes: Reimagining Feminism at the Brooklyn Museum.
Previously, she was Assistant Curator for Collections at the Solomon R. Guggenheim Museum (2010–16), where she served on the museum's Young Collectors Council acquisition committee devoted to acquiring and supporting the work of emerging artists. While there, she researched and promoted the Guggenheim's permanent collection, overseeing the Collection Online and the outgoing loans program, and worked on acquisitions, collection management, and special projects. She co-curated the contemporary collection exhibitions Now's the Time: Recent Acquisitions (2012–13) and Storylines: Contemporary Art at the Guggenheim (2015). She has previously worked with the collections of the Whitney Museum of American Art and the Museum of Modern Art.
Carmen received her B.A. in Art History and English from the University of Richmond and is pursuing an M.A. in Art History at Hunter College. Her institutional and academic interests include contemporary performance in the museum context, politically engaged artist projects, early video art technologies, and the postwar artists of Latin America and its diasporas. Carmen lives in Jersey City.