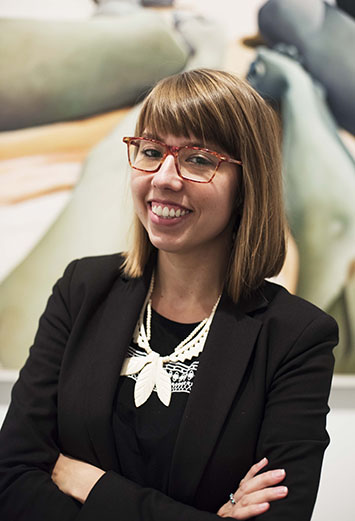 Carmen Hermo
Associate Curator, Elizabeth A. Sackler Center for Feminist Art
Carmen Hermo joined the Elizabeth A. Sackler Center for Feminist Art's curatorial team as Assistant Curator in June 2016 and was appointed Associate Curator in 2018. She curated Roots of "The Dinner Party": History in the Making (2017), co-organized Marilyn Minter: Pretty/Dirty (2016–17), the Brooklyn presentation of Radical Women: Latin American Art, 1960–1985 (2018), Half the Picture: A Feminist Look at the Collection (2018–19), and Something to Say: Brooklyn Hi-Art! Machine, Deborah Kass, Kameelah Janan Rasheed, and Hank Willis Thomas (2018–19), and formed part of the curatorial collective for Nobody Promised You Tomorrow: Art 50 Years After Stonewall (2019). She also assisted with initiatives for the 10th anniversary of the Sackler Center, A Year of Yes: Reimagining Feminism at the Brooklyn Museum. Carmen works to support the collection and serves on the Council for Feminist Art and Young Leadership Council patron groups.
Previously, Carmen was Assistant Curator for Collections at the Solomon R. Guggenheim Museum (2010–16), where she served on the museum's Young Collectors Council acquisition committee devoted to the work of emerging artists and co-curated the contemporary collection exhibitions Now's the Time: Recent Acquisitions (2012–13) and Storylines: Contemporary Art at the Guggenheim (2015). She has previously worked with the collections of the Whitney Museum of American Art and the Museum of Modern Art.
Carmen received her B.A. in art history and English from the University of Richmond and her M.A. in art history from Hunter College. Her interests include performance in the museum context, politically engaged artist projects, and the postwar artists of Latin America and Latinx artists in the United States. Carmen lives in Jersey City.