Barbarie Rothstein
Great Neck, NY
United States
Since the 1960s, Barbarie Rothstein has produced sculpture in a variety of media, both non-traditional and traditional, including polyurethane foam, handmade paper, vines, and branches, wax, stone, metal, plaster and wood, Each medium has opened up new possibilities for exploring her concerns pertaining to the human form, nature, and architecture. Whether it has been the softness and pliability of foam, the resistance of metal or the infinite textural varieties of paper, the dynamic interchange between material and idea has always intrigued her. Her sculpture is a synthesis of the formal, expressive, and metaphorical. Abstraction, with its potential to evoke multiple layers of meaning through allusion and association, has been her primary language.
Barbarie Rothstein earned a B.A. in Liberal Arts from Sarah Lawrence College, and an M.F.A. in Sculpture from The University of Wisconsin. She is a Full Professor in the Arts at the State University of New York, Empire State College, in Old Westbury, NY, where she teaches studio art and art history. She has exhibited her sculpture and drawings locally and nationally in solo, juried and invitational exhibitions. The exhibition venues have included Artists Space, the A.I.R. Gallery, and the Graham Gallery in New York City; the Montclair Art Gallery, Montclair, NJ; Silvermine Artists Guild, New Canaan, CT; The Montgomery Museum of Fine Arts, Montgomery, AL; The Nassau County Museum of Art, Roslyn Harbor, NY; The Heckscher Museum, Huntington, NY; The Queens Museum, Flushing Meadows, NY; The Museums at Stony Brook, Stony Brook, NY; and numerous other galleries and museums. In the late 1970s, Rothstein was a member of the first women's cooperative art gallery, Central Hall Gallery, on Long Island, NY. She has won many awards for her work and has received reviews in The New York Times, Newsday, and Fiberarts. In 2000, Art & Antiques magazine published her article "House, Home, and Hopper," which reflects her interest in the metaphorical aspects of domestic dwellings. This article was the catalyst for her book-length manuscript, The Artists' Eyes.
Feminist Artist Statement
The thread that has run through my work from its very beginning is the mystery of internal spaces. Whether hinted at through the cracks and crevices in the human anatomy and the natural world, or expressed through the interiors of shelters and other kinds of enclosures, this concern has been a constant. While male artists, too, have dealt with images of outer/inner or actual enclosures, I see this imagery in my work as stemming from female bodily experience. This is my link to Feminism.
When I began making sculptures out of polyurethane foam in 1970-71, the material apparently answered an inner need to create sensual forms. The imagery, which was suggestive of the female body, simply evolved from my unconscious. It was not surprising to me, given that the human figure had always been a part of my work, from my earliest forays into sculpture. When I began to sew the foam, I was not making a political statement about feminine roles or tasks- I was simply engaging in an activity that I had loved since childhood, and it worked as a way of making the forms that my psyche evidently demanded. The forms also began to suggest male imagery and my vocabulary evolved into a female/male hybrid as I began to work with sewn canvas, latex-covered canvas, and other kinds of cotton fabric. The pliable folds in the fabric gave way to the malleability of paper pulp, through which I could fuse the biomorphic with the architectural. The arch, another kind of opening into inner space, became an intriguingly powerful form for me, and along with it emerged allusions to female sexual imagery. My cathedral-like structures then evolved into primitive dwellings and, ultimately, the archetypal house form.
My current series of interiors is comprised of intimately-scaled rooms that contain the human figure and/or pieces of furniture. The inside walls are sometimes pierced by slit-like apertures or darkened windows, echoing the openings in my earlier work. Narrow doorways reveal partial views in any direction, hinting at the unknown quantity of inner space. Thus, I have come full circle in my focus on the dramatic tension between the enclosure and the space enclosed. This push/pull of outside/inside may be seen as a metaphor for the dualities of male/female. Once again, the formal has, for me, become a means of expressing ideas emerging from personal, feminine experience.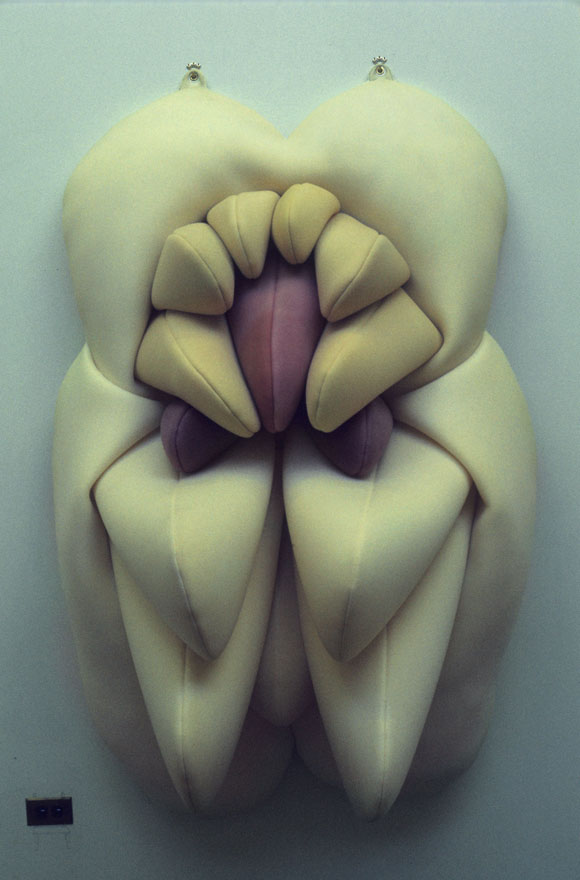 Contact
Great Neck, NY 11021
United States
Email
Text, images, audio, and/or video in the Feminist Art Base are copyrighted by the contributing artists unless otherwise noted. All rights reserved.