Boryana D Rossa
Sofia,
Bulgaria
Boryana Rossa is an artist and curator based in Sofia, Bulgaria. Until August 1, 2004, she worked as an interdisciplinary artist, curator and writer working in the field of electronic arts film, video, performance and photography. She holds master degrees from the National Academy of Arts, Sofia and from Rensselaer Polytechnic Institute, Troy, NY.
Her works have been shown internationally at various venues such as steirischer herbst, Graz; The 8-th International Biennial, Cairo; National Gallery of Fine Arts and Goethe Institute, Sofia; 1st Balkan Biennale, Thesaloniki; Kunstwerke, Berlin, 2-nd International Art Biennial of Buenos Aires and the 1st and 2nd Moscow Biennial.
In 2004 together with Russian artist Oleg Mavromatti, Rossa established UTRAFUTURO—an international group of artists that engages with issues of technology and science and their social, political and ethic implications. Performances of Rossa and Mavromatti have been included in the retrospective show Renegades—25 Years of Performance Art at Exit Art in 2006 and in prestigious international exhibitions of art and technology like the Biennial for Electronic Art, Perth (BEAP); Foundation for Art and Creative Technologies (FACT), Liverpool; Society for Art and Technology (SAT), Montreal.
In 2007 Rossa was a curator of the Bio-art Initiative, a unique program of collaboration between the Center for Biotechnology and Interdisciplinary Studies (CBTIS) and the Electronic Arts department of Rensselaer Polytechnic Institute, that gives an opportunity of close collaboration between artists and scientists.
Rossa writes for several Bulgarian cultural newspapers and magazines, among which 39 Grama, Kultura and Altera. She holds the prestigious award Essential Reading for Art Writers of the Institute of Contemporary Art (ICA), Sofia for 2008.
Feminist Artist Statement
n my artistic practice I incorporate diverse strategies and mediums that interconnect in order to support the message I intend to deliver. I see my work in a continuous interrelationship with political and economic reality, based on the local histories but overcoming them through my point of view from a more global perspective. A pro-active position and collective strategies for influence is what I believe to be an effective engagement of the artist with a socio-political reality.
I consider an important feature of my work to be the capability to connect different places, views, and histories that is only possible on the basis of a first-hand experience through traveling and intellectual exchange. Through my practice I also address the relationship between marginality and center. The fields of marginality are unusually movable—their navigation is problematic, every second they are deformed, mixed, re-defined. The acceptance of the postulate of the mobility and the elasticity of the borders of marginality invalidates the traditional method of making binary oppositions, which is a statement that I relate not only to feminist issues but to the general issue of marginalization and especially to stable definitions like marginalization or empowerment by default.
he wide use of media and technology in contemporary society and the new methods of mythology creation based on the availability of digital devices is another current topic I am working on. Science and technology create the future we will live in. Awareness in that field helps us to not only hail new advances but to evaluate them as potential agents of the evolution of our notions (both positive and negative) and creators of new power structures. In a feminist context, I emphasize the notion of life and the body as a construct (or constructed) rather than datum (static), which gives a different perspective on gender and the body. That can be seen in my performances and some of my biotech-related work.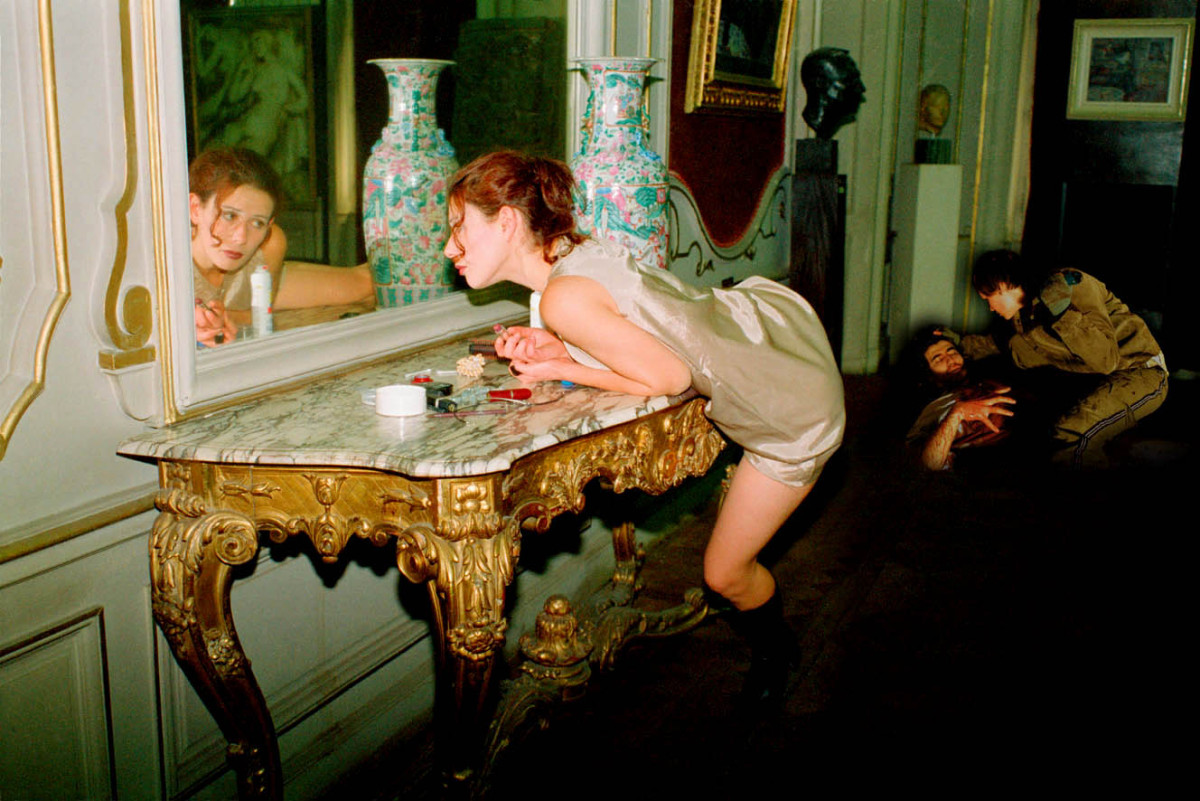 This work is my comment on the process of transition from the image of the emancipated woman, backwards to the "careless beauty"—a process that takes place in our post-communist societies. The new post-communist woman has lived beyond the female struggles, for her the bloody revolution flows over into the red world of her lipstick.
Contact
38 Zhivko Nikolov Str.
Sofia,
Bulgaria
Email
Text, images, audio, and/or video in the Feminist Art Base are copyrighted by the contributing artists unless otherwise noted. All rights reserved.