Dee Shapiro
Great Neck, NY
USA
I was a founding member of Central Hall, the first women's cooperative gallery on Long Island. My work was brought to the attention of AIR Gallery in New York where I exhibited work that was considered part of the Pattern and Decoration Movement in the 1970's-80's and was included in the exhibition at PS1 in Queens, NY. I continued to work with pattern adding texture that resembled beading, referencing women's work that had been considered craft. My work was informed by geometry and after developing architectural images, I began a series of landscapes and cityscapes on a very small horizontal format. I have recently returned to abstract work, this time focusing on sexually suggestive biomorphic imagery with unreasonably excessive strokes in ink, including pattern. I am interested in imagery that seems decorative and both repels and attracts.
Feminist Artist Statement
I have been concerned with women's issues most of my life. I have worked to enhance the position of women in society through supporting the work of women artists. As a contributor to Heresies Magazine and a founder of a women's cooperative gallery as well as developing a body of work that references women's work and more currently focuses on female sexual imagery, I identify with feminist matters and affairs.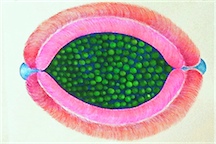 Multicolored image with small circles within the larger form
Contact
28 Clover Drive
Great Neck, NY 11021
USA
Email
Text, images, audio, and/or video in the Feminist Art Base are copyrighted by the contributing artists unless otherwise noted. All rights reserved.