Faith Ringgold
Englewood,
USA
Faith Ringgold is Professor Emeritus at the University of California, San Diego, where she taught art from 1984 until 2002. Internationally renowned artist, educator, and social activist, she began her artistic career in the 1960s as a painter. Best known for her painted story quilts–art that combines painting, quilted fabric and storytelling–Faith has exhibited in major museums in the USA, Europe, South America, Asia, Africa, and the Middle East. She is in the permanent collection of many museums including the Solomon R. Guggenheim Museum, The Metropolitan Museum of Art, and The Museum of Modern Art.
Her first book, Tar Beach, was a Caldecott Honor Book and winner of the Coretta Scott King Award for Illustration, among numerous other honors. Faith Ringgold has written and or illustrated 14 children's books; received more than 75 awards, fellowships, citations and honors, including the Solomon R. Guggenheim Fellowship for painting, two National Endowment for the Arts Awards and 18 honorary doctorates, one of which is from her alma mater The City College of New York. Faith Ringgold is the founder of The Anyone Can Fly Foundation, a non-profit organization whose mission is "to expand the art establishment's canon to include artists of the African Diaspora and to introduce the Great Masters of African American Art and their art traditions to kids as well as adult audiences."Between 1969 and 2006 Ringgold's work has taken many forms including painting, printmaking, soft sculpture, performance art, writing and quilt making. She is renowned for her large painted Story Quilts, in particular Tar Beach created in 1988. Ringgold's work is inspired by art forms from other cultures as well as by her own African American heritage and life in Harlem, New York City.
www.faithringgold.com
Anyonecanflyfoundation.org
any1canfly@aol.com
ringgoldfaith@aol.com
Assistant Grace Matthews 858 576 0397 phone and fax
Feminist Artist Statement
An excerpt from We Flew Over the Bridge: The Memoirs of Faith Ringgold by Faith Ringgold published by Duke University Press 2005. pg 175-180.
"I became a feminist because I wanted to help my daughters, other women and myself aspire to something more than a place behind a good man. In the 1970's, being black and a feminist was equivalent to being a traitor to the cause of black people. "You seek to divide us," I was told. "Women's Lib is for white women. The black woman is too strong now—-she's already liberated." In the fall of 1970 Poppy Johnson, Lucy Lippard and I, formed an ad hock women's group to protest the small percentage of women in all past Whitney Annuals… Our goal for the 1970 annual was 50% women… ...The Whitney Museum became the focus of our attention. We went there often to deposit eggs. Unsuspecting male curatorial staff would pick up the eggs and experience the shock of having raw egg slide down the pants of their fine tailor—made suits. Sanitary napkins followed… Generally, everywhere the staff went they found loud and clear messages that women artists were on the Whitney's "case." The Whitney Annual that year was to be a sculpture show… Because of the Whitney's well-known preference for abstract art, ... Betye Saar and Barbara Chase-Riboud ... were the ones I unconditionally demanded to be in the show. Saar and Chase-Riboud became the first black women ever to be exhibited at the Whitney Museum of American Art. The total percentage of women in the Whitney annual in 1970 was twenty-three percent as opposed to the previous year's average of five to ten percent. This was better than ten percent, but it still wasn't fifty. We decided to demonstrate during the opening to make that point… At a pre-determined time, Lucy Lippard and I began to blow our whistles… We continued to blow. The people gathered around us and we formed a big circle on the floor. Then we got up and walked around chanting, 'Fifty percent women, fifty percent women.' Throughout the show we demonstrated every weekend, blowing our police whistles and singing off key.. 'The Whitney is a helluva place, parlez-vouz. They're down on women and they're down on race, a honky donkey, parlez-vous.' The women artist's movement in New York was on it's way…"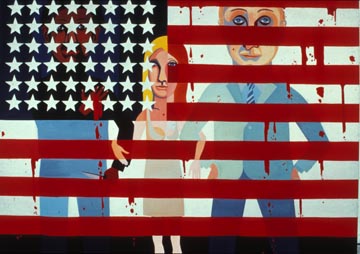 The American People Series #10: The Flag is Bleeding
Contact
PO Box 429
Englewood,
USA
Email
Text, images, audio, and/or video in the Feminist Art Base are copyrighted by the contributing artists unless otherwise noted. All rights reserved.