Helen R Klebesadel
Madison, WI
USA
Helen Klebesadel was born in 1953 and raised in rural Wisconsin. She now resides in Madison, Wisconsin where she maintains her studio. She is best known for her richly detailed narrative watercolor paintings. Klebesadel's art and prose have been published in Frontiers, Feminist Studies, and CALYX. In addition to private collections, her paintings are in the permanent collections of the American Council on Education, Lawrence University, Madison Area Technical College, and HospiceCare Inc. of Wisconsin. Klebesadel is an artist and an educator whose teaching informs her art. She has taught studio art and women's studies privately and on the college level for almost two decades. Her experiences informed the writing of a chapter entitled "Re-Framing Studio Art Critique and Practice" in a recently published book New Museum Theory: An Introduction. She is currently Director of the University of Wisconsin System Women's Studies Consortium. Klebesadel is a past national president of the national Women's Caucus for Art from 1994 to 1996, and she is a past member of the Governing Council of the National Women's Studies Association. Appointed by Governor Jim Doyle in 2006, she is currently a member of the Wisconsin Arts Board. Exhibiting nationally and internationally, she has had recent solo shows at the Nelson Institute Center for Culture, History and the Environment, at UW-Madison; the National Humanities Center, Research Triangle Park, NC; and the Tate Gallery, University of Georgia-Athens, Athens, GA. She has participated in the U.S. Arts in the Embassies Program showing in South Africa and Rawanda, as well exhibiting in Bali, China, and Japan. Other exhibition venues include the Kohler Art Center ArtSpace, the Bergstrom-Mahler Art Museum, and the Rahr-West Art Museum in Wisconsin; the Peninsula Museum of Art, and Michela Gallery in California; and the Rhonda Schaller Gallery and the Museum of the National Arts Foundation in New York.
Feminist Artist Statement
I am a feminist and am also an artist. I come from a rural farm background with strong women and stronger gender role divisions. I became a feminist the day my mother was told her first child was a healthy eight pound baby girl, and she said, "What, look again!" My father tried to name me and all my sisters 'Arthur.' I was always an artist, but when I went off to a small private midwestern art school in the early 70's I dropped out in my sophomore year and would not return to college for a decade. Later I realized my male teachers had not taught about a single woman artist or a single artist of color during my first year and a half of college. Those omissions taught me that the art of women and the art of people of color were worth less than the art of the white men I studied. In essence, I was taught that the art of women was worthless. A decade later when I returned to college I studied studio art and Women's Studies. I learned to teach like I was never taught. I committed myself to making art that put women at the center and imagined as my audience a world of diverse women who cared about what I did.
I consider my art-making to be my feminist research. I believe that the act of art-making can be an act of self-determination and empowerment. My paintings most often examine the contradictions I have found when my experience of reality has been in conflict with what I have been taught to expect by the dominant culture around me. In some instances in my art-making, I am trying to express concepts that we do not seem to have words for. In particular, I am concerned with examining those things that have been polarized into negatives and positives, much as feminine and masculine have been separated into opposites instead of being viewed as equally valued parts of a balanced, healthy whole. This concern leads me to find inspiration in the images and objects traditionally associated with the female in this culture. Increasingly I've focused on human relationships with nature and our tendency to forget that we are nature. I hope to help us remember that what we do to the earth's body, we do to ourselves.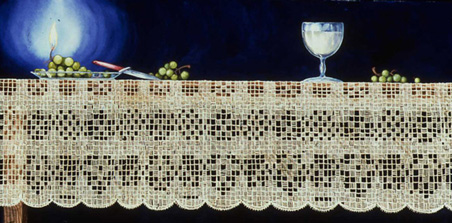 Contact
2017 Jenifer
Madison, WI
USA
Email
Text, images, audio, and/or video in the Feminist Art Base are copyrighted by the contributing artists unless otherwise noted. All rights reserved.