Jessica Lagunas
New York,
USA
Born in Nicaragua in 1971, Jessica Lagunas grew up in Guatemala where she studied graphic design. Through various media, such as installations, video-performance and objects, her art projects use a minimum of elements for expressing her concerns about the condition of woman in contemporary society.
She participated in El Museo del Barrio's Biennial (New York, 2007), Tirana Biennial (Albania, 2005), Cuenca Biennial (Ecuador, 2001), Caribbean Biennial (Dominican Republic, 2001) and Paiz Biennial (Guatemala, 2008). Her work has been included in group exhibitions at the Bronx Museum of the Arts (New York, 2006) and Jersey City Museum (New Jersey, 2007), as well as in different cities in the United States, Guatemala, Venezuela and Italy.
She was a selected artist for the program Artist in the Marketplace (AIM) at the Bronx Museum of the Arts during 2005-06. Her work is included in the anthology "Imagining Ourselves: Global Voices from a New Generation of Women", published in 2006 by the International Museum of Women in San Francisco.
In 2007 and 2008 she was a recipient of NoMAA Grant Program for Individual Artists, New York. Jessica Lagunas is a 2008 Fellowship recipient from the Urban Artist Initiative/New York City. She lives and works in New York City.
Feminist Artist Statement
Beauty routines of embellishment have been incorporated in our daily lives in such a way that we hardly notice or question them anymore. Although few women will reach society's beauty ideals, many will sculpt their bodies as needed: put on make-up, do their hair/nails, depilate, diet, fix their noses and breasts—all in the name of beauty. My work deals with the condition of woman in contemporary society, questioning her obsessions with body image, beauty, sexuality and aging.
With a minimalist approach—and mostly conceptually based pieces—I use different media such as installation, collage, objects, and video-performance. In these video works I play along with women's beauty rituals, performing them in exaggerated ways to reflect the pressures imposed by today's society. The camera focuses on the part of the body where the action takes place: With repetitive gestures—for one or two hours continuously—I apply make-up, questioning its power of seduction, or I depilate my pubis questioning the pressure to have a pre-pubescent appearance.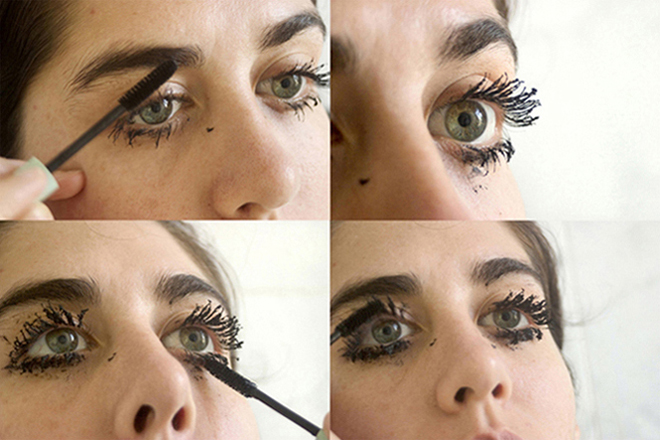 Production stills of video-performance in which I apply black mascara continuously for one hour.
Text, images, audio, and/or video in the Feminist Art Base are copyrighted by the contributing artists unless otherwise noted. All rights reserved.