Karin Luner
New York,
USA
Born in Düsseldorf, Germany, Karin Luner studied under K. H. Hödicke at the Hochschule der Künste in Berlin where she received a Master of Fine Arts. After her graduation in 1983 she moved to New York. She studied lithography and etching at the Robert Blackburn Printmaking Workshop, and was awarded two printmaking fellowships by the R.F. Nelson Foundation.
From 1992-96 she was an active member of the Jersey City Artist Collective 'Progressive Culture Works' and kept a studio in Jersey City. In 2005, the artists at 111 First Street fell the way of gentrification and Luner moved her studio to the Bronx.
Luner has shown her work around the country in mostly alternative spaces. She organizes and curates exhibitions, and took over the directorship of Dietzspace, a lobby gallery in Tribeca, in 2005.
Luner has been awarded several grants as well as artist residencies, among them a Pollock-Krasner Grant, the Pernod Liquid Art Price, a residency at the C-Scape Dune Shack in Provincetown, MA, the Vermont Studio Center, and the CAC in North Adams, MA.
Currently, she works as the National Administrator for the Women's Caucus for Art.
Feminist Artist Statement
Thoughts on Art and Gender in 2007
Examining gender from the female artist point of view, I was intrigued by the question Linda Nochlin asked in 1971: "Why have been there no female Michelangelos?" In my opinion, if a woman were handed a hammer and a chisel in the past, had access to male nudes, the resources to produce monumental work, and the permission to have a libido, she could have been a Michelangelo, if that would have been her intention.
However, there were, and still are, social, economical, and political mechanisms installed, which keep women out of this exclusively male territory. Whatever few women have managed to produce was almost completely edited out of history. It is only recently that women have been able to make more of an impact, and this is not because it has been handed to them. Although affirmative action has helped to secure more grant money and got more women into museums, 'Women's Art' is still valued less than art. Genius, a male attribute, functions like a male birthright: it comes with a penis. A women is never endowed with Genius.
When I was three, my grandfather let me hammer nails into a little wooden foot stool, which I pulled out when the stool looked like an Uecker painting and then started hammering again. My grandmother, however, adhered to her gender roles and taught me how to knit and play nice games. Yet, both made equal impact. One enabled me to build and construct things, the other instilled a passion for detail, patience, and the appreciation of solitude.
So here is my piece, any piece I've ever made, really would do, since I, a woman, has made it. As far as I am concerned, women who are not independantly wealthy dedicating their lives to art instead to husbands and children, are participating in political action which still carries its consequences…
Karin Luner
written in 2000 and modified in 2007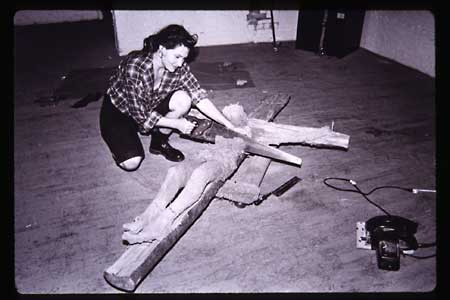 The photo is a documentation of making the Reshaping of the Cross. This piece was part of the 1992 Progressive Culture Works exhibition Catholicism held at the 111 First Street Community Gallery in Jersey City. Progressive Culture Works was a group of artists, to which I belonged from its start in 1992 to its end in 1996. The group took on several themes that were relevant like religion and gender to grief and artistic inspiration. The focus was on sharing of information and communal learning. Its non-hierarchic structure is very feminist in practice.
Contact
105 Duane St # 14A
New York, 10007
USA
Email
Text, images, audio, and/or video in the Feminist Art Base are copyrighted by the contributing artists unless otherwise noted. All rights reserved.