Adriana Varejao
Rio de Janeiro,
Brazil
Born in 1964 in Rio de Janeiro, where she lives and works, Adriana Varejo is one of Brazil's leading contemporary artists. The Hara Museum in Tokyo featured a solo exhibition of her work in 2007, and she was featured in an exhibition at the Fondation Cartier pour l'art contemporain in Paris. Her work was included in the Brazil: Body and Soul exhibition at the Guggenheim Museum in New York in 2001, as well as in the MoMA QNS exhibition Tempo, where she filled an entire room with the wall-based installation Azulejes (Big Blue Tiles). Varejo has exhibited extensively internationally—including the Biennale of Sydney, the Venice Biennale, and the So Paulo Biennial—and has had solo exhibitions at Bildmuseet, Ume, Sweden, and the Instituto de Arte Contemporanea, Lisbon. Her work is in the collections of Tate Modern, London; Solomon R. Guggenheim Museum, New York; and, Museum of Contemporary Art San Diego, among others.
Feminist Artist Statement
The visually arresting work of Adriana Varejão draws on her heritage as an artist living and working in Brazil. Incorporating both popular and art historical images and appropriating potent remnants of Brazil's colonial past, she constructs sculptural paintings that often take the fragmented or eviscerated human body as their subject. Extremely tactile and often saturated in blood-red hues, Varejão's highly visceral work recalls the pain and pleasure that accompanies both colonialism and the creative process. Canvases painted to look like the blue and white porcelain tiles introduced to Brazil during the colonial era are slashed to reveal a gruesome layer of raw flesh-like material. In another group of work, Varejão uses the sea as a point of departure. Continually re-examining and re-presenting Brazil's cultural history, Varejão views the sea as the link between Brazil and countries such as Portugal, China, and India – all countries sharing in Brazil's development.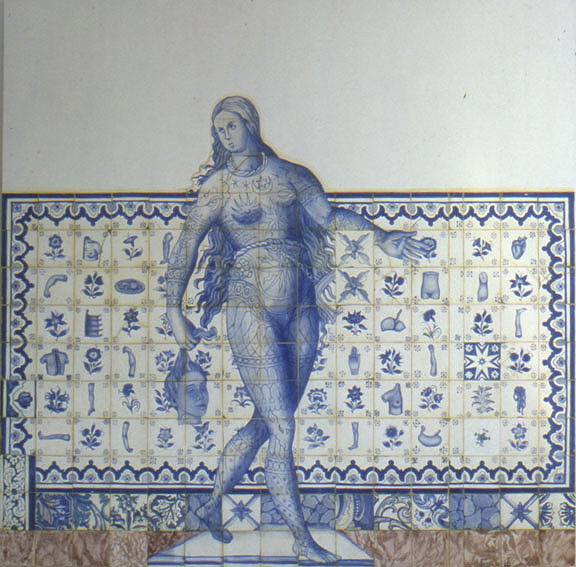 Text, images, audio, and/or video in the Feminist Art Base are copyrighted by the contributing artists unless otherwise noted. All rights reserved.