Andrea Bowers
Los Angeles,
United States
Andrea Bowers has an MFA from CalArts and lives and works in Los Angeles. Recent solo shows include "The Weight of Relevance" at the Secession, Vienna and Susanne Vielmetter Los Angeles Projects; "Vows" at Halle fur Kunst, Luneburg; "Nothing Is Neutral" at REDCAT, Los Angeles and Artpace, San Antonio. Recent group shows include "Tanzen, Sehen" at the Museum fur Gegenwartskunst, Siegen, Germany; "Personal Affairs" at the Morsbroich Museum, Leverkusen, Germany; "Particulate Matter" at the Mills College Art Museum, Oakland and the "Whitney Biennial 2004", Whitney Museum of American Art in New York. She is represented by Susanne Vielmetter Los Angeles Projects, Sara Meltzer Gallery in New York, Mehdi Chouakri in Berlin, Galerie Praz-Delavallade in Paris, and Van Horn in Dusseldorf. Bowers is currently a Visiting Artist at CalArts.
Feminist Artist Statement
I am proud of the moniker "feminist." My work also addresses many other issues, both political and aesthetic. It's like we are living back in the 1950s again; with the Bush administration, things are more conservative than ever. This administration is trying to force the teaching of intelligent design in public schools, outlaw abortion, illegally wiretap people's phones, and read their email. This conservatism has permeated the entire country and has international influence. In the art world and beyond, race and gender discrimination is thriving, and this makes me very sad. If this weren't the case, more young women would not be so afraid to call themselves feminists. Young artists fear being ghettoized being considered an "artist" only as associated with an adjective such as black, Latino, feminist, political, gay, and so forth. This is understandable, because these attitudes are prevalent; but underlying this tendency to categorize is a notion that somehow there is a type of art production that is nonpolitical or neutral. In other words, you can choose either to make "Art" or to be one of those "other artists." As far as I can tell, "Art" is about the interests and identities of a modernist tradition of Euroethnic men and is easily consumed by a capitalist system because its politics coincide with the agendas of those in power. I'm talking about a system and not a physical description of people. Participation in this system is a choice. "I'll be post-feminist in the post-patriarchy."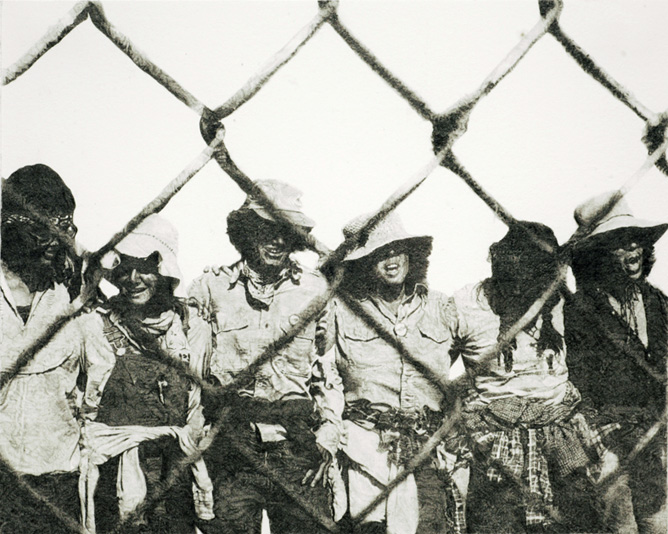 This is a drawing of a protest held by members of an activist group in California called Mothers for Peace. In 1981 they were protesting the Diablo Canyon Power Plant, an electricy-generating nuclear power plant, built near the San Andreas and Hosfri earthquake fault lines. This drawing was one of three included in a body of work called "Magical Politics". All three drawings focused on acts of civil disobedience performed by women's affinity groups centered around the arms race and its impact on the environment. Magical politics was a nonviolent, direct-action movement that arose during the early 1980s in the United States and combined feminism, spiritualism, and environmentalism. Barbara Epstein in her book, "Political Protest and Cultural Revolution" coined the term, though I doubt any members of the movement are even aware of this name. It refers to the movement's spiritual makeup, which constituted an alliance between radical leftist Christians (mainly Catholic and Protestant groups such as the Catholic Workers, Jonah House, Atlantic Life Community, and Ground Zero) and feminist pagans. There is an absurdity in the union of these groups faiths that is at once humorous and utopian. Their ability to work together effectively was an amazing accomplishment, especially considering the fraught interactions of other opposing religions around the world. Viewed from the current climate of religious fundamentalism in the United States and throughout much of the world, the collaborative spirit of the magical politics groups presents an almost unimaginable model of acceptance of others' differing beliefs.
Text, images, audio, and/or video in the Feminist Art Base are copyrighted by the contributing artists unless otherwise noted. All rights reserved.