Barbara Yoshida
New York,
USA
Barbara Yoshida is an adventurous traveler and photographer who fills her backpack with tent, sleeping bag, large format camera, film and tripod, then sets out to photograph natural forms, spiritual locations and women artists in countries from Sweden, throughout Europe to the Ukraine, Armenia, Israel, Morocco, The Gambia, Japan, and Mongolia. Camping with her family in northern Idaho was an early influence. She picked up a camera after twenty years as a painter and six years making sculpture, and spent several years doing printmaking, using photo processes. A half-dozen artist's residencies for the National Park Service resulted in a series of color landscapes as well as a series of photogravure prints. Following ten years of photographing Neolithic standing stones in moonlight, her first book was produced: Moon Viewing: Megaliths by Moonlight, published by Marquand Books in 2014.
Yoshida's interest in the body and feminist iconography produced an early series including naked self-portraits with masks. Some of these self-portraits were also shot in moonlight, because the moon has traditionally exemplified the feminine, particularly female intuition and emotions.
Another long-term project is a portrait series of women artists. Since 1990 she has documented over a hundred women in their studios and homes. Feeling the need to create a sense of community, she is creating a project that is inclusive. The artists span several generations and work in a variety of styles, they come from various countries, and there are no distinctions between fine art and craft.
Her most notable one-person exhibition featured 80 women artists' portraits at the National Museum of Poland; during that same year she was selected by Joyce Tenneson for "The View Project" at Naples Museum of Art in Florida. Her photogravures were shown at Atelier Lacouriere Frelaut in Paris and seven large prints were featured at Southeast Museum of Photography in Florida. Her work appears in Night and Low-Light Photography: Professional Techniques from Experts for Artistic and Commercial Success.
She is represented in various collections including Museet for Fotokunst, Denmark; Southeast Museum of Photography; Frederick R. Weisman Art Museum; The Huntington Gardens Art Collection; Polaroid Corporation; and Light Work.
Yoshida is American, living and working in New York. She received her M.A. at Hunter College, and her B.A. at University of Washington. She is a former Light Work, Ucross, Blacklock Nature Sanctuary, Atlantic Center for the Arts (selected by Graciela Iturbide), and two-time MacDowell Colony fellow.
Feminist Artist Statement
Since I began photographing women artists in 1990, my purpose has been to help create community. There are no distinctions in this project between "high" and "low" art, fine art and craft. Coming from all over the world, the women span several generations and work in various styles. Some are famous and others are comparatively unknown. This community is not a geographic or elitist one, but has something more universal to do with being a woman making art.
In each portrait, I work with the individual, allowing her to reveal an aspect of her identity. There continue to be many misconceptions about women as subjects, stemming from their having been traditionally depicted as models or muses. These photographs portray the deeper sensibilities inherent in women's self-representation.
From the women's movement, I learned the importance of working together. I want this portrait project to be a collaboration. So before I begin photographing, I tell each woman that she will decide later which images are okay for me to use. Each woman should have the right to control which images of herself go out into the world. I also believe this approach will give a better photograph, because establishing trust will help me achieve a personal connection with my subject. My being a fellow artist also helps. And of course, there is a difference between a woman photographing a woman and a man photographing a woman.
In my self-portrait series, I am interested in the relationship of the contemporary body to feminist iconography and personal transformation through art. Since they are structured on fantasy, the naked self-portraits, in particular, are about the relation to images and to shifting identities rather than to organs. To the extent that the phallus is not the articulator of meaning, they can be considered a challenge to patriarchal authority and a representation of a woman's point of view. She is definitely in control—aware of her power, in control of her sexuality and how she is perceived by the world—definitely the subject, not the object.
One of the reasons I chose to photograph myself as Hecate in moonlight is because the moon has traditionally exemplified the feminine. The moon is a symbol of regeneration and transformation, its phases associated with the cycles of birth, fullness, aging, and death.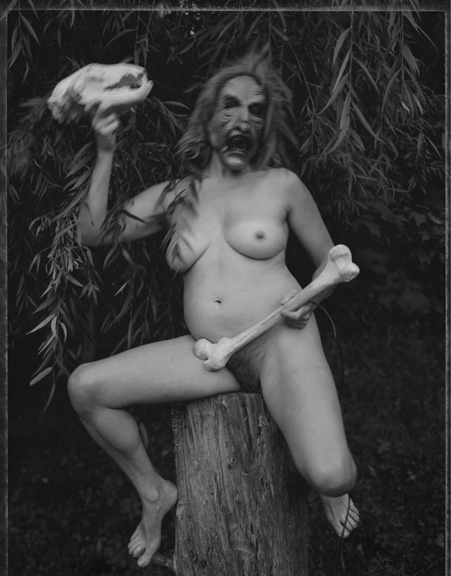 The basic, fundamental nature of woman is called the wise or knowing nature. And this woman is always a creator-hag, or death goddess. Hecate, a Greek death goddess, is one of her personifications.
I am interested in all forms of transformation—young to old, female to male, and all sorts of magic and alchemy, like photography. Masks are a visual representation of transition, transformation, or change. In order to recognize illusion or change, we must first understand that something can appear to be something else. Masks show that both sides of what seems to be a contradiction are true.
Text, images, audio, and/or video in the Feminist Art Base are copyrighted by the contributing artists unless otherwise noted. All rights reserved.