Brenda Goodman
New York,
USA
Brenda Goodman was born in 1944 in Detroit, Michigan and has been living in New York City since 1976. She has been painting since 1960 taking evening art classes while still attending high school, and as of 1961 she went on a 4 year scholarship at The Detroit Society of Arts and Crafts, now known as The College for Creative Studies.
Her paintings range from abstraction to figurative and her scale ranges from very small to very large. Surface and texture are always of utmost importance because that is where her emotions find meaning and life. For the past 4 years Goodman has been working on a series of self-portraits that try to remove all barriers between herself as a woman/artist and the viewer.
Goodman received several grants including two New York Foundation for the Arts Fellowships and The National Endowment for the Arts. Since 1973, she has had 29 solo exhibitions including Rutgers University, NJ; Howard Scott Gallery, NY; Nielsen Gallery, Boston; Revolution Gallery, MI; Marianne-Deson Gallery, Chicago; Pam Adler Gallery, NY; and Phyllis Kind, Chicago.
She has been in over 160 group exhibitions including Edward Thorp Gallery, NY; Nielsen Gallery, Boston; the Whitney Biennial, NY; Santa Barbara Museum of Art, CA; Detroit Institute of Arts, MI; Museum of Contemporary Art, Chicago; Aldrich Museum of Contemporary Art, CT; The New Museum, NY; the Pamela Auchincloss Gallery, NY; and the Butler Institute of American Art, OH.
Her work is part of several collections including The Agnes Gund Collection, NY; the Carnegie Museum of Art, PA; the Santa Barbara Museum of Art, CA; the Detroit Institute of Arts; the Museum of Contemporary Art, Chicago; and the Birmingham Museum of Art, AL.
Goodman has been reviewed in several newspapers and art magazines through the years, including Art in America, ArtNews, The New Yorker, The New York Times, The Boston Globe, The Los Angeles Times, The Philadelphia Inquirer, The Chicago Sun-Times, and The Detroit Free Press.
A Visiting Artist and Teacher since 1965, throughout the years Goodman visited and lectured at several institutions including Bard College, NY; the University of Michigan; Bennington College, VT; the Maryland Institute, MD; Kansas City Art Institute; the New York Studio School; and the Pennsylvania Academy for Fine Arts, PA.
Feminist Artist Statement
In this body of work "Self-portraits 2003-2007," my desire is to address concerns I'm facing as a 63 year old woman and artist. Through the process of painting myself, my intent is to extend the parameters of my specific and personal issues to reveal and comment on basic universal emotions and conditions. I want to remove the veils between myself and the viewer, and communicate the palpability of needs met, of needs unmet, of needs never met. Of rage, of fear, of vulnerability, of aging, and finally of mortality as my work is about reality, not irony.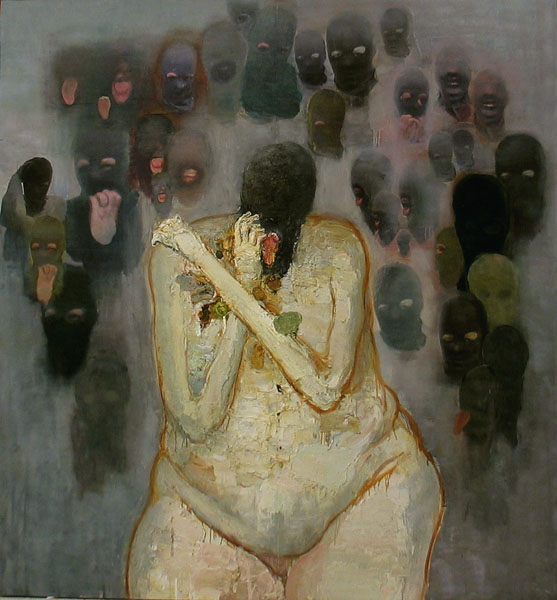 Contact
94 Bowery
New York, 10013
USA
Email
Text, images, audio, and/or video in the Feminist Art Base are copyrighted by the contributing artists unless otherwise noted. All rights reserved.