Clarity Haynes
Brooklyn,
USA
Clarity Haynes was born in McAllen, Texas, in 1971, and currently lives and works in Brooklyn, New York. Her work has been shown in solo exhibitions at Tabla Rasa Gallery in Brooklyn, Bogigian Gallery at Wilson College in Pennsylvania, and Artists' House Gallery in Philadelphia, and in group exhibitions at the 'temporary Museum in Brooklyn, the Allentown Art Museum, and Hopkins House Gallery of Contemporary Art in New Jersey. She has received grants from numerous sources including the Brooklyn Arts Council, the Barbara Deming Memorial Fund and the Leeway Foundation. She holds a BA from Temple University, where she studied film production, a Certificate in Fine Arts from the Pennsylvania Academy of the Fine Arts and an MFA in Painting from Brooklyn College of the City University of New York.
"Clarity Haynes began the Breast Portrait Project in 1998 with her own nude self-portrait. She found the experience transformative and decided to offer this opportunity to other women. Since then she has sought out and found enthusiastic participants at women's festivals, fairs and similar events. Each sitter enters Haynes' booth to pose, record her thoughts in a book (often handwritten there and then), and consent to having a photograph taken of her nude torso alongside the finished portrait. To date, Haynes has completed over 500 breast portraits. As each breast portrait contributes to the whole and the whole grows in number, the artistic effect intensifies. And changes. A full wall of portraits transforms the individual identities into a collective narrative about the human condition: its diversity, its vulnerability, its challenges to survive."
—Beth Gersh-Nesic, from the catalogue essay, "Radical Acceptance," Tabla Rasa Gallery, Brooklyn, NY, 2011.
Feminist Artist Statement
The social meaning of the female body is problematic in a sexist culture.
In addition, the body itself, coded as either male or female, is not actually so black and white. The difference between art that deals with the body now and much of that of the 1970s reflects the influence of postmodernism and queer studies. Biology and gender identity are no longer inextricably linked; binaries are suspect. My work includes portraits of those born with male bodies who have transitioned, as well as those living in female bodies whose identities do not match those dictated by society.
"Before" pictures pop up constantly on our computers and in magazines, as part of the daily landscape of imagery. These "before" pictures, meant to shock and scare, show bodies that are presented as needing urgent correction and control, through weight loss or plastic surgery.
I think of my portraits as a cultural intervention – "before" pictures lovingly drawn and painted, meditative descriptions of specific bodies that need no correction.
Each torso bears traces of unique personal experience: tattoos, childbirth, aging, stretchmarks, surgical interventions. This project is about finding dignity and beauty in the physical characteristics of the body that our popular culture often ridicules and heaps with shame, and in the process allowing the models who participate to feel pride in their particular selves—and by extension, the viewers of the work as well, regardless of their gender.
The agency of the model is integral to my work. The sitter's choice to have a portrait done is a courageous act of self-revelation. Portraiture involves participation, collaboration and even performance.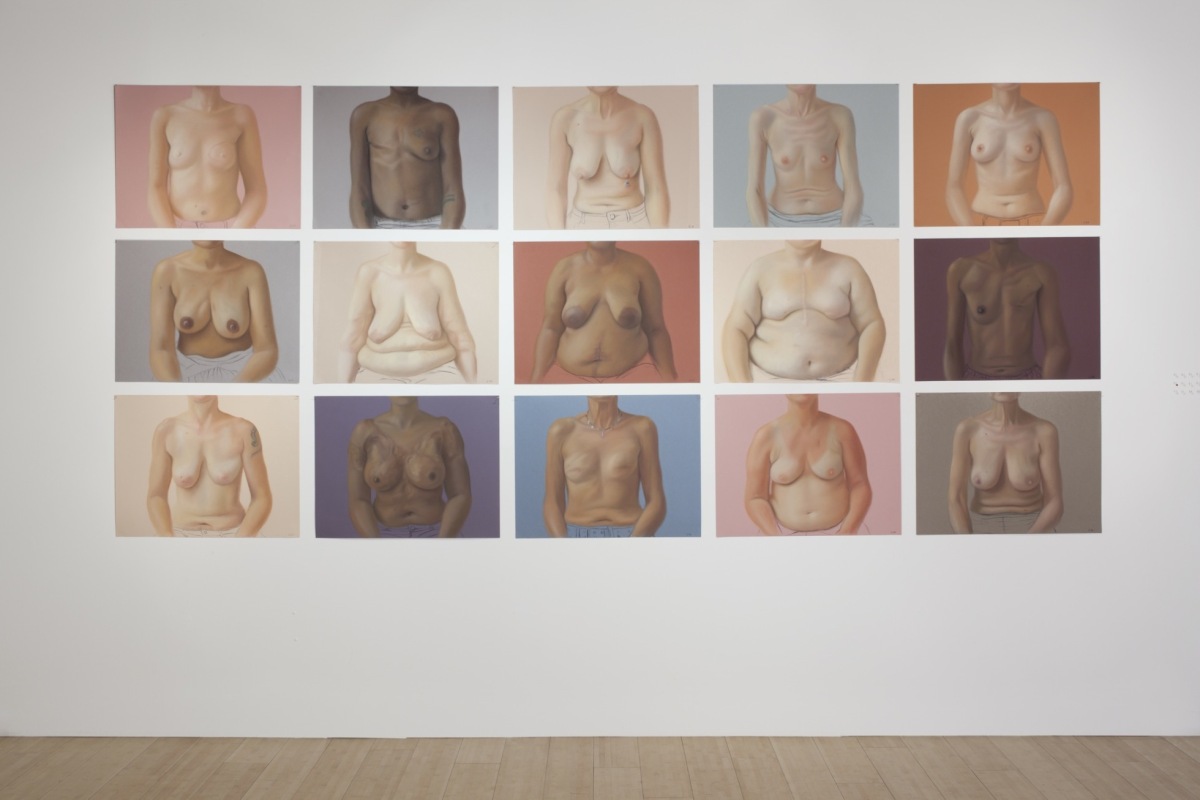 From the exhibition, "Clarity Haynes: Radical Acceptance," Tabla Rasa Gallery, Brooklyn, NY, 2011.
Text, images, audio, and/or video in the Feminist Art Base are copyrighted by the contributing artists unless otherwise noted. All rights reserved.