Ianna Book
Montreal,
Canada
Ianna Book is a multidisciplinary transsexual artist and activist living and working in Montreal, QC, Canada. She has studied Fine Arts at Cegep du Vieux-Montreal (1997 - 2000) and Visual and Media Arts at Universite du Quebec à Montreal (2001 - 2005). Her work has been featured at several group shows: Art, Culture, Resistance et Luttes Sociales, the testimonial performance at Gesu, Montreal, 1999; Derision publicitaire, organized by Bande Video at Complexe Meduse Quebec, 2001. In 2008, she proposed Mon Urethane, a multidisciplinary performance in which the artist interacts within installations reflecting the five universes that compose her (emotional, spiritual, physical, cultural and activist). In 2011, she presented her first trans project at Radical Queer Semaine in Montreal. During a period of transition (2010-2013), she published Trans Avenue, a photographic essay on transsexuality and the urban context. Afterward, she introduced and spoke of his work at differen t events in Montreal and New York. Recently she organized, in collaboration with Virginie Jourdain and Marie-Claude G. Olivier, Trans Time, the first trans group exhibit in Montreal with several international artists. The second edition will be presented in 2016 at SomoS arts gallery, Berlin, Gemany. Ianna will also have a solo exhibition in 2016 at the Leslie & Lohman Museum of Gay and Lesbian Art, New York.
Feminist Artist Statement
I've always felt the need to create thought-provoking visual arrangements in public spaces. My aesthetic research is centered on a critical appraisal of both the norms of the human landscape and the conservative status quo, opening the way to new cultural elements. By rearranging our surroundings and various aspects of the spectacle, I push the spectator to question their own conditions and remember they are social actors able to progress. This approach came into its own as my transsexual state became my greatest source of artistic inspiration and motivation. Indeed, ever since my inner state became an outer reality, I have been more motivated than ever to create, express various feelings related to my unconventional existence, and understand how it fits into the current social context. There are still many obstacles facing trans* realities; heterosexism and trans*misogyny are problematics particularly affecting me. A double stigma that I must face as a trans* woman. Con sequently, I have to fight in order to have my rights recognized and respected, in which I found women's openness and solidarity to be tremendously necessary.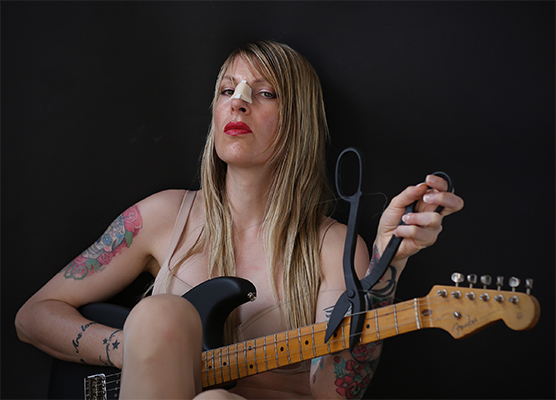 Text, images, audio, and/or video in the Feminist Art Base are copyrighted by the contributing artists unless otherwise noted. All rights reserved.