Jan Wurm
Berkeley,
USA
Jan Wurm's work flows between painting and drawing and her visual language bridges abstraction and figuration. Her search for a vocabulary for the expression of contemporary life reflects Wurm's own position as a social observer. Born in New York, Wurm moved to California as a young child. She then moved to Austria, where she lived with her family for four years. Her art education was also divided geographically: between California (where she earned a B.A. from the University of California, Los Angeles) and London (where she earned a M.A.R.C.A. from the Royal College of Art). This repeated shift in perspective honed an eye for observation and synthesis. Working and teaching in California, Wurm continues to spend time in Europe. Drawing from traditions of social engagement, her images reflect culture through body language, gesture, and color. Wurm's work is represented in collections which include the the New York Public Library Print Collection and the Fine Arts Museums of San Francisco Achenbach Graphic Arts Collection.
Feminist Artist Statement
Ball games, card games: boys play and men play and play and play and keep playing. Through these games they learn rules, endurance, and scoring. The lessons deepen to mold behavior, to establish goals and to enforce the idea of power and might as virtues. Boxing, hunting and fishing unite men in a shared vision of dominance. Meanwhile, the girls are playing too. They, however, are playing with dolls. They are playing dress-up and looking to the mirror for the transformative magic of the ultimate role of bride. From there follow relationships: friendships, intimacies and the inherent mind games. My drawings of these are open white expanses, like the blank screen across which an image flickers, illuminating something beyond the image just for a moment. A flash of recognition of the experience's meaning is scratched across the surface. The drawing is loose, a line in constant movement, a puddle of color anchoring and giving weight to a thought ready to fly off, nearly forgotten as the day passes and the activity is lost to the accumulation of the mundane. But some trace is left on the page and the fragmentary remnant serves to conjure up the sense of the whole. The pencil or charcoal or crayon or brush play with the eye. It is a game of conjuring and there is just enough there to evoke the game.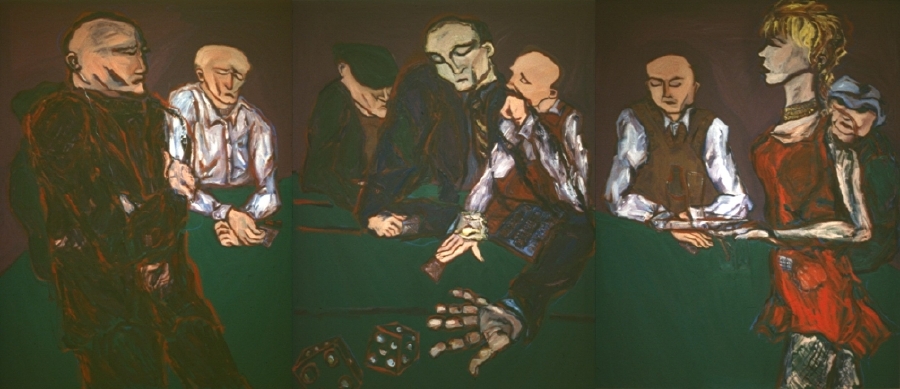 Text, images, audio, and/or video in the Feminist Art Base are copyrighted by the contributing artists unless otherwise noted. All rights reserved.