Jane Zweibel
Brooklyn, NY
United States
Ms. Zweibel holds a BA from Bennington College and an MFA in Painting from Columbia University. She received a fellowship and residency from the Skowhegan School of Painting and Sculpture. She is the recipient of grants from the Puffin Foundation and The Artist's Fellowship Inc., and was selected for the Artist in the Marketplace program at The Bronx Museum of the Arts. Ms. Zweibel also received fellowship residency awards from the Virginia Center for the Creative Arts and the Banff Centre of the Arts.
Reviews include Art in America, The New York Times, and American Artist. Ms. Zweibel's work was featured in and on the cover of the September/October 2009 issue of FiberARTS magazine. Ms. Zweibel has had numerous shows in the USA and abroad. Solo shows have been held at the Mary H. Dana Women Artist Series, Rutgers; The Transit Museum, NY; 55 Mercer Gallery; and Mercer Gallery at Monroe Community College, Rochester. Her work has also been featured in group shows at the Institute for Women and Art at Rutgers University, Schaffler Gallery at Pratt Institute, Proteus Gowanus Gallery, The Arts Guild of New Jersey, Tabla Rasa Gallery, Project Room 88, The Painting Center, Sarah Bowen Gallery, David Beitzel Gallery, Trans Hudson Gallery, The Bronx Museum of the Arts, and Marymount Manhattan College Gallery.
Ms. Zweibel is currently represented by Leslie's Artgallery in Bridel, Luxembourg, where she had a second solo show in December 2009-January 2010. Leslie's Artgallery also recently published a full color catalogue of Ms. Zweibel's work. Ms. Zweibel had her first solo show at Chaffers Gallery in Wellington, New Zealand in February-March 2010. Ms. Zweibel will have a mid-career retrospective of work at the Kulay-Diwa Gallery, Manila, The Philippines, in December 2010. The artist's work is included in numerous private collections worldwide.
Feminist Artist Statement
In my work, I am fully engaged in an on-going exploration of issues of identity, in particular female identity. I use self-portraiture as a subject through which I can express and conceptualize meaning in a chaotic world. By utilizing my own image in my work, I subvert the dominant and traditional concept of the "male gaze" in art. In my work, I appear in multiple roles, guises, disguises, and perspectives. For example, I have depicted myself as middle-aged mermaids, women conducting epic and everyday struggles with pantyhose, and as characters from film and TV. I often use props and images-such as flowers, pill bottles, and abandoned buildings-as symbols that hint at the multiple meanings in my narratives. These things have feminine connotations and associations: flowers become icons of desire, beauty, and decay; pill bottles speak of anxiety and vulnerability, and structures embody the need for home and safety. I appear in my art as both myself, specific and unique, and as a universal Everywoman. I see my work as simultaneously building upon, and growing from, the historical continuum of women artists who have utilized self-representation as their primary investigation of the female, archetypal self, and as my own, very personal means of attempting to reinvent and reinvigorate the wheel of female self-portraiture. My work constitutes an intensive examination of issues particular to gender, including sexuality, body image, and aging. The subject matter of my artworks is about the travails and battles, and ultimate self-acceptance and empowerment, that comes with the territory of the perpetual changes and transformations of the female body, psyche, and self. I create bodies of work that take the form of either more traditional stretched canvas paintings, or my "stuffed paintings". The latter are hand-sewn and cotton stuffed canvas figural objects with paintings on the façades. These pieces blur boundaries of craft and fine art, and are labor intensive. As a contemporary female artist, I wed content and form in ways that both arise from, and expand upon, the foundation of feminist art. I paint narratives of my intimate world, while also imbuing the collective experience and lives of women with meanings of my own making.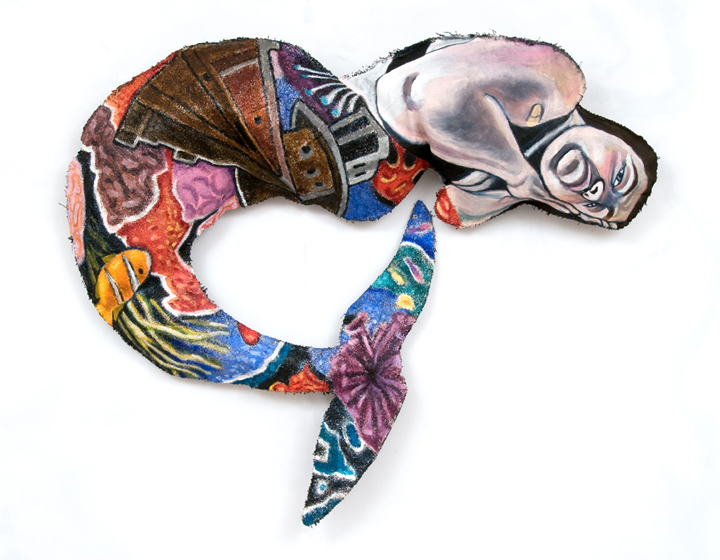 My "Midlife Mermaids" are self-portraits that combine realistic and fantasy imagery and content. Specifically, this series of work explores and portrays core elements of female identity, both personal and collective. I use each "Midlife Mermaid" as a vehicle for an intensive examination of cogent issues of gender, sexuality, and aging.
Contact
26 Winthrop Street
Brooklyn, NY 11225
United States
Email
Text, images, audio, and/or video in the Feminist Art Base are copyrighted by the contributing artists unless otherwise noted. All rights reserved.