Kara Walker
New York,
United States
Kara Walker has participated in numerous national and international exhibitions. She became the recipient of the Lucrelia Artist Award in 2004. Her recent solo museum shows include: Kara Walker: My Complement, My Enemy, My Oppressor, My Love at The Walker Art Center, Minneapolis, MN (February 18 – May 13, 2007); ARC/ Musee d'Art Moderne de la Ville de Paris, France (June 20 - September 9, 2007); Whitney Museum of American Art, New York, NY (November 11, 2007 – February 3, 2008); Hammer Museum (February 17 – May 11, 2008). She participated in the 53nd Venice Biennale, in June of 2007. In 2009, her work was included in "Black Womanhood: Images, Icons, and Ideologies of the African Body" at the Hood Museum of Art at Dartmouth College, in Hanover, NH.
Feminist Artist Statement
"I find that I am rewriting History, trying to make it resemble me, Kara (and me, negress) but doing it in little bits and pieces. It's a monomaniacal undertaking, but there is a lot of (white, patriarchal) damage to undo. I mean that's the only way history is written anyway, in little pieces. I would have preferred to make up my own Mythology and make it stick as effectively as those ante- and post-bellum characters have in the collective unconscious, or to make up stories as influential as the American Revolution and its heroes and ideals. But alas, I've got only myself, the Penny Empire of me to work with, so that's what I do."
Kara Walker, "Kara Walker," interview by Ali Subotnick, Make, 92 (Special Edition 2002): 25-27.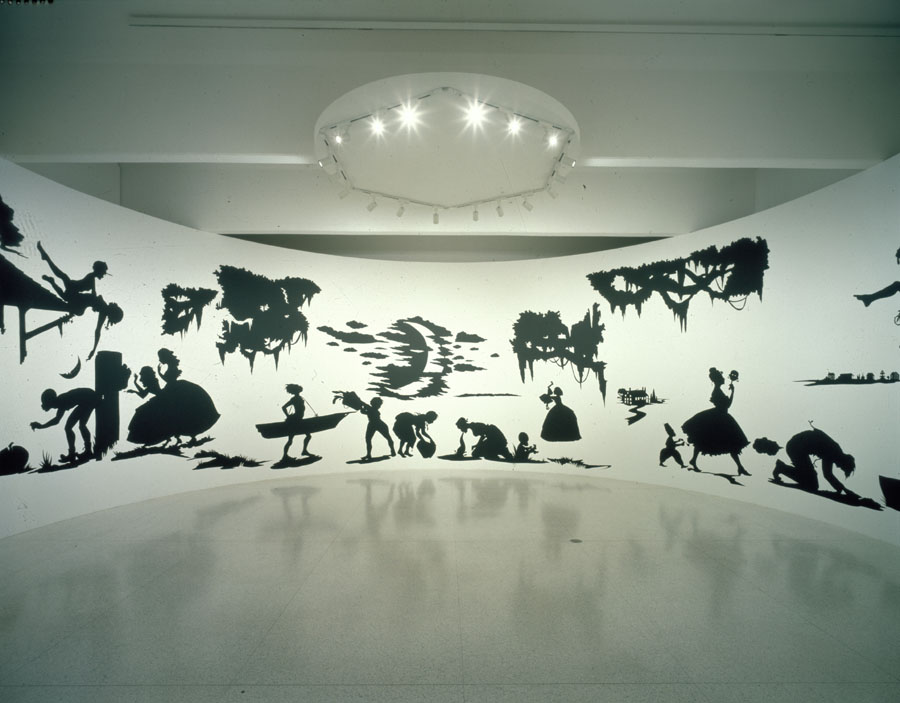 Contact
c/o Sikkema Jenkins & Co. 530 W. 22nd St.
New York, 10011
United States
Email
Text, images, audio, and/or video in the Feminist Art Base are copyrighted by the contributing artists unless otherwise noted. All rights reserved.