Ligia Bouton
Santa Fe, NM
USA
Ligia Bouton's work combines sculpture with performance, digital video, and photography. Each project wrestles with issues of functionality and narrative, drawing on sources from art history, classical and contemporary literature, and science. Sculptural objects, elaborate sets, and groups of volunteers are used in performances to recreate these appropriated narratives. Bouton was born in Sao Paulo, Brazil, and was raised in London, England. She received her undergraduate degree from Vassar College, before going on to complete a M.F.A. at the Mason Gross School of the Arts at Rutgers University where she was awarded the Paul Robeson Emerging Artist Award. At Rutgers, she worked with the Fluxus artist, Geoffrey Hendricks, performing with him both in Europe and the United States. Most recently, her work has been shown in Santa Fe at EVO Gallery and at the Museum of Fine Arts. Past projects have been shown in New York at Bill Maynes Gallery, in Colorado at the Fort Collins Museum of Contemporary Art, and in New Jersey at City Without Walls. Her video work was featured in a solo exhibition at the Boulder Museum of Contemporary Art in 2007, and has been included in many national and international festivals including The Female Avant Garde Festival in Prague. In 2008, she was awarded a commission to complete an installation for the international group show "Pretty Is As Pretty Does" at SITE Santa Fe. Ligia Bouton lives and works in Santa Fe, New Mexico.
Feminist Artist Statement
My identity as a woman artist is the site for all of my work; it is a political site, a sexual site, as well as a geographic site, and a historical site. This site is not always the conceptual focus of each project, but it is the ground that I stand on. I draw on a wide range of sources - from Natural History Museums to reliquaries, from masterworks of western art to popular literary narratives - as a means of exploring the ways in which personal experiences and histories are classified and digested. I dress-up myself and others in costumes I have made. I become enveloped by the characters from these appropriated narratives, playing the parts of animals, women, and men. Ultimately the desire to "try on" different identities does not equate itself in my work with a need to become someone or something else. In fact, I find it is just the opposite; by recreating or enacting these roles, I find an awareness of my own boundaries, an understanding of exactly what makes me separate from everything else. With each wardrobe change, I apply a different outer layers to a core that remains the same; a core that is fundamentally and undeniably female.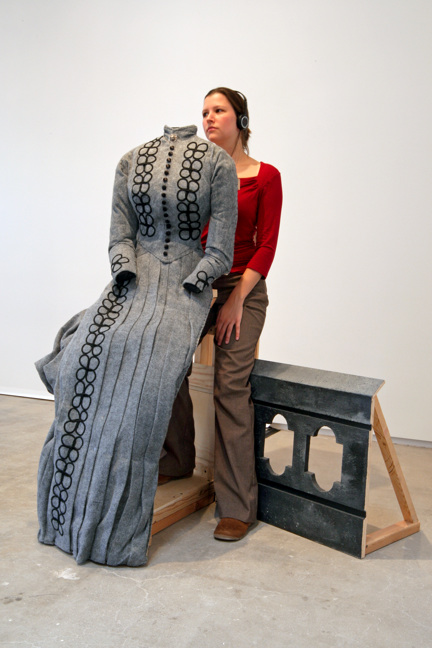 Contact
Santa Fe, NM
USA
Email
Text, images, audio, and/or video in the Feminist Art Base are copyrighted by the contributing artists unless otherwise noted. All rights reserved.