Lin Tianmiao
Beijing,
China
Lin Tianmiao (b. 1961) was born in Taiyuan, Shanxi, China. She studied at Capital Normal University, China, and at the Art Student League, New York. She has had solo exhibitions in Beijing at Courtyard Gallery, Gallery of the Central Academy of Fine Arts, and Baofang Hutong. Her work has been included in group exhibitions at Insitute of Contemporary Art, London; the Mexico Museum of Contemporary Art, Mexico City; San Francisco Museum of Modern Art, CA; Xu Xian Art Center, Taipei, Taiwan; National Gallery of Australia; Chengdu Contemporary Art Museum, Sichuan, China; Queens Museum of Art, NY; Cleveland Center for Contemporary Art, OH; Lasalle College of Art, Singapore; and Espace Cardin, Paris. She has participated in the Ireland Biennale, Kwunju Biennale, Fukuoka Asian Art Triennale, and Shanghai Biennale in 2002, as well as the Echigo-Tsumari Art Triennial, Japan, in 2003. Her work can be found in the collections of International Center for Photography, NY; Fukuoka Museum of Asian Art, Japan; Hong Kong Museum of Art; JGS, Inc. NY; and Santa Barbara Museum of Art, CA. She currently lives and works in Beijing.
Feminist Artist Statement
I am often called a Chinese woman artist. But I would rather say that "I am an artist, I am a woman, and I am Chinese." To be a woman artist means you have the responsibility to expound on the current state of feminism and the mentality of women in China when invited to attend international exhibitions. I personally think there is no such thing as feminism in its conscious sense in China and that only individual cases address feminist issues.
"Throughout her career, Lin Tianmiao has addressed the ambivalence of women in contemporary China toward age-old patriarchal traditions. In previous work, Lin has used a range of household items traditionally associated with women, such as spoons, ladles, teakettles, coal stoves, and bowls— wrapped in white cotton thread symbolic of a binding force difficult to escape. In the Focus series she presents hauntingly pale photographic images of herself on canvas and pierces them with thread. As with many artists in Global Feminisms, Lin's painstaking, craft-based conceptual explorations are pertinent not only to women in her homeland, but also to women of many different cultures and nations." -Amy Brandt, Exhibition Assistant, Global Feminisms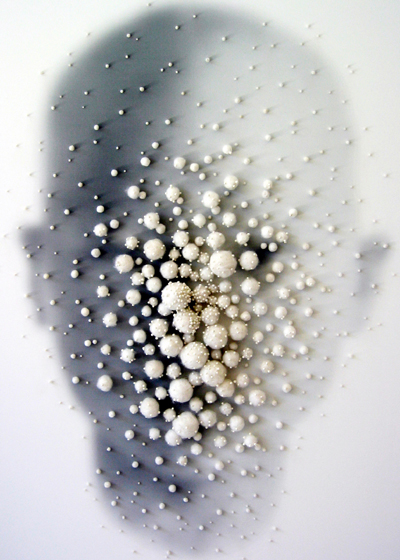 Text, images, audio, and/or video in the Feminist Art Base are copyrighted by the contributing artists unless otherwise noted. All rights reserved.