Maria Poythress Epes
Atherton,
USA
I come from a line of feminists, four generations of belief in women. I feel like it is in my blood, so it was exhilarating to come of age during the second wave of feminism. Another very important influence in my life was growing up going to an all-girls school. This was instrumental in giving me confidence and a respect for women.
At college I majored in art, receiving a B.F.A. from Cornell. As a printmaking major I was working next to a small letter press shop and became entranced with the world of books. I created artists books and became a mistress letterpress printer.
Space exploration has captured my imagination since childhood, so I was excited when asked to join the NASA Art Program on Space Shuttle; I made several trips to launches and exhibited work at Cape Kennedy. Later I was in an exhibition of women in the NASA art program at the National Museum of Women in the Arts.
After a spell in California getting an M.F.A. in typography and book-making, I started a career in book design and art directing for twenty-five years in New York City. This work supported my feminist art that did not sell like hot cakes. During the eighties and nineties in New York I exhibited in many of the alternative spaces flourishing then such as Franklin Furnace, La Mama, and Broadway Windows, as well as Ceres Gallery. Also during this period I was on the board of the Women's Caucus for Art, participated in a group out of Chicago (Sister Serpents), was a member of a women's drumming group (The Mob of Angels), and published work in feminist magazines of that time (Women of Power, Iris, and Kalliope).
A retrospective in Barcelona was the culmination of many years of work and an exhilarating experience. The Spanish audience was very responsive, particularly to my work dealing with death and gender. Then a three-year period of healing followed after 9/11, a layoff, and divorce, through my creation of my own Woman House in the spirit of the painter Vanessa Bell and her house in England. Now back again in California, I continue my connection with New York and my work with the body as I age and change. I have taken to oil painting outdoors in the great climate, covering surfaces of all kinds. My menagerie enjoys watching my "plein air" activities.
Feminist Artist Statement
My feminist awareness is expressed through my art in issues around the body, as it is for so many women. It is perhaps the most vivid and personal place that we learn gender difference, so expressing this in art that references the body makes the concepts very tangible. Living in a female body is a complicated situation, and over my career I have touched on the places that most affected me at that time. In a series of paintings using my own menstrual blood, I wanted to claim female blood as a positive sign of the life-giving function and wanted to unlearn the idea that we are taught—of it as filthy waste.
My horror at male violence against women instigated my training at a shooting range. With great persistence I acquired a gun license in New York City so that I could use my art as targets, shooting pieces full of bullet holes. The work also expresses awe at the amazing fragility of the body and the mind. Engaging in the social dance of gender relations and sex can have terrible consequences. In a painting and drawing portrait series of couples as "spooners" nestling one another, those tender touches came at price. The bodies are full of bullet holes.
Death, an ever-present aspect of any portrayal of the body, has always consumed me on very literal levels. When I was eleven, I witnessed my father slowly die and this was imprinted so deeply on me that years later I built my own coffin and shroud for another exhibition. I did this the year that I turned the age he died. My attempt to understand this dying as part of our living turned my eyes to what is under the skin, the internal structures of the body and our female systems. It is hard to think about the female body without thinking of the clothes that cover or adorn it. So the social politics of gender on the outside meet with biology when I paint body parts on clothes, trying to merge the outer and the inner, our life and our inevitable death. Now thirty years of art-making later, I am further down that path to death and continue to be fascinated by feminism. The journey is always a privilege, no matter where I find myself on the road.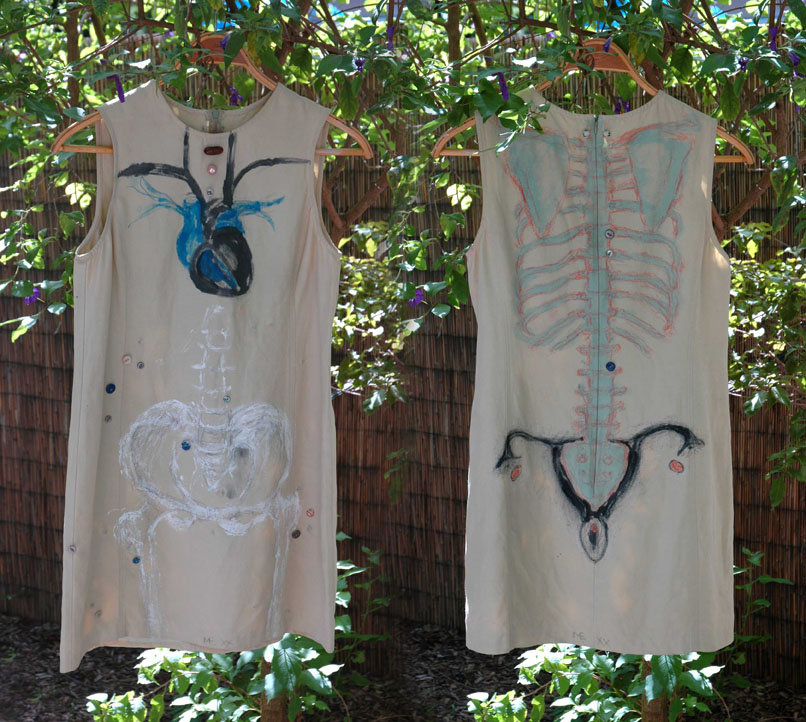 The skeletal structure and the biological systems for circulation and reproduction are painted on a dress decorated with buttons.
Contact
220 Park Lane
Atherton, 94027
USA
Email
Text, images, audio, and/or video in the Feminist Art Base are copyrighted by the contributing artists unless otherwise noted. All rights reserved.