Melissa Zexter
Brooklyn,
USA
Melissa Zexter is a New York- based photographer. For many years, she has combined the slow and meditative process of hand-sewn embroidery with the technologically more immediate medium of photography. Her portraits and figurative work explore identity and representations of femininity.
Zexter has exhibited throughout the United States including shows at Kenise Barnes Fine Art, New York, The International Center of Photography, NY, Hallspace Gallery in Boston, MA, the Bronx Museum of the Arts, and Creiger Dane Gallery, Boston, MA. Her work has been published and reviewed in numerous publications including AfterImage, The New York Times, The Boston Herald, Time Out Chicago, The New Yorker, Art New England, The Village Voice, and New York Magazine .Zexter has taught in New York at Cooper Union, Alfred University, The New School, and Long Island University. She currently teaches at The Dalton School, NYC. She holds a BFA from the Rhode Island School of Design and an MFA in Photography from New York University/ International Center of Photography.
Feminist Artist Statement
Melissa Zexter combines hand-stitched embroidery with both color and black and white photography. She uses an older art form, embroidery, refracted through a modern one, photography, to create structured objects that are embodiments of both fragmentation and focused concentration. The sewn patterns and intricate puzzles are colored textured drawings, which serve as webs and grids over the photographs, providing another dimension to the images. The incorporation of sewing revisits traditional "woman's work", embracing an activity that is considered traditionally feminine. The sewing creates a filtered experience; much the way emotions and personal history alter everyday perception.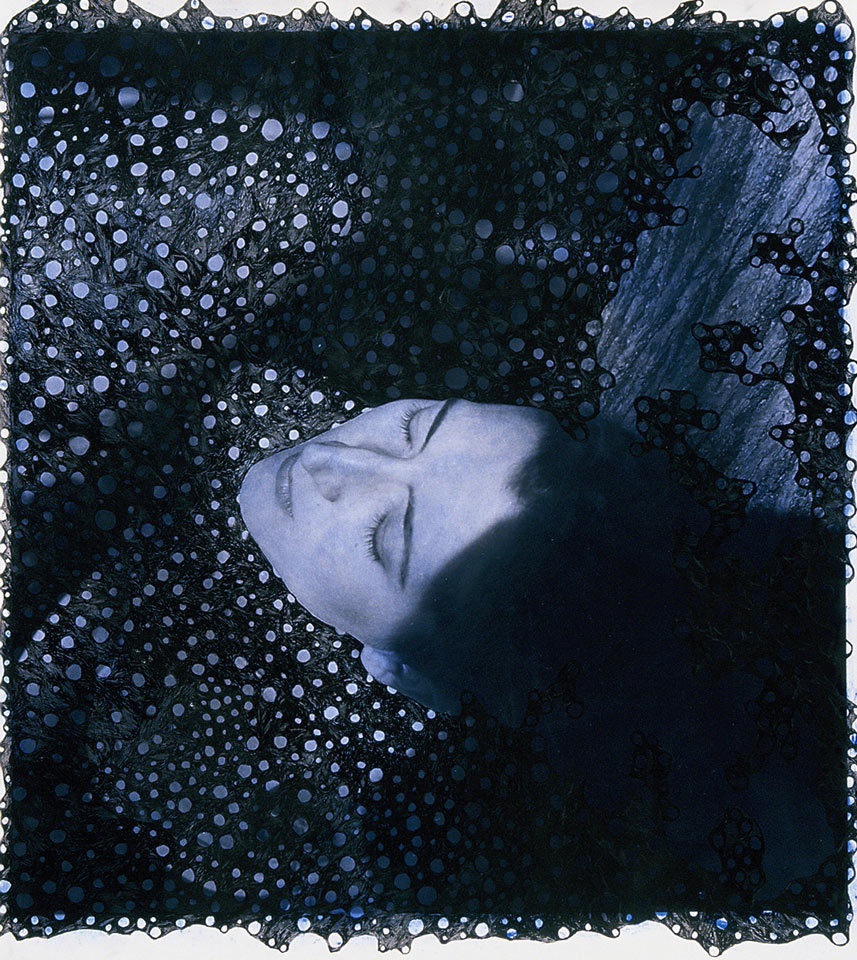 Ink drawing directly onto black and white photograph
Text, images, audio, and/or video in the Feminist Art Base are copyrighted by the contributing artists unless otherwise noted. All rights reserved.