Nina Yankowitz
New York, NY
U.S.A.
I exhibited Draped Paintings at Kornblee Gallery NY 1968. Other "ONE MAN SHOWS", as described in James Mellow's 12/5/71 NY Times review "Cheops Would Approve", at Kornblee were during 1969, 1970,1971 including pleated and draped sound installations. Critic Cindy Nemser's NY Times rebuttal headline read: CAN WOMEN HAVE ONE MAN SHOWS?01/9/72 My work was included in the 1973 Whitney Museum Biennial NY, the same venue I joined women to protest the museum's deficient representation of female artists. Participated/organized CR groups in NYC, one in Japan. Always disturbed by the disenfranchised, I joined others founding Heresies magazine, A Political Journal On art And Politics. I wanted to facilitate/generate interest in artworks that blurred edges between assumed boundaries demarcating male/female platforms presumed to explore. However, I understood the importance others maintained in projecting a unified voice that demanded recognition of an inherent female imagery as the way to infuse women' art into the mainstream while simultaneously creating a new critical discourse. As critics and historians began writing about Feminist art during the early/mid 1970's, I was traveling to exhibit, to teach, or living in absentia while healing from a head injury.
During 1979 I completed an opera, PERSONAE MIMICKINGS OR VOICES FROM THE PIANO; a limited edition of color scores, text, with audio. The piece portrayed a woman's multiple voices/personae. Texts reflect a variety of faux operatic languages designed to express multiple personalities within womankind. E.g. A French sounding dialect presented THE BAROQUE THE BELL OF APPETITE or THE TORTURED SPIRIT WAGNER RIPPED was portrayed by a sharp staccato Germanic voice. Part II: ETHNOGRAPHIC WEAVINGS comprised global dialects electronically woven to sound like musical instruments.
In 1997 I co-chaired a panel at the College Art ConferenceNYC:The Lone Rangers: Beyond Feminist Orthodoxy. Aretha Franklin's R.E.S.P.E.C.T.blared as the audience entered before viewing some seminal artworks during the 60's-70's not contextually based upon Feminist Imagery. Works exhibited include The Whitney Museum, MoMA, NY, Katonah Art Museum, Indianapolis Museum, PS1,Queens, Germans Van Eck Gallery, Ronald Feldman Fine Arts, Guild Hall Art Museum, Steffanotti Gallery, Rosa Esman Gallery, Frederieke Taylor TZArt, Saatchi & Saatchi,NY. Public sited works include Doris Freedman Center, Pa., 51&Lex. Subway NY, Jersey City/Bergen, Freehold, Newark, N.J. Santa Monica Ca. Numerous Publications including New York Times, Village Voice, Vogue Magazine, Art Forum, Art News. Wall Street journal. Grants include Ford Found. NEA, CAPS, Pollock-Krasner, Visiting Artist Amer. Academy in Rome.
Feminist Artist Statement
The concept of simultaneity is the key to understanding what women artists were doing to effect political change during late1960's-1970's in the predominantly male art world. This era drove a pluralist discourse and portrayed multifarious voyages that many women artists traveled in order to claim a personal female identity. Some individual pursuits were formulated outside of group activism and these artists often saw their contribution to feminism as giving other women artists the permission to investigate whatever artistic territory they found interesting; Territories devoid of pre-conceived perceptions specifying what are male or female creative domains. Many of these artists helped fuel and lay platforms from which sprung the frames of references, rebuttals, and source materials for the birthing of the feminist imagery movement that was soon to be developed. I'm disenchanted by the fabricating of a monogenic feminist history built upon bones gathered from the seemingly same initial writings about feminist artists authored in the '70's. The Sackler Feminist Archive can be a valuable resource and hopefully will stimulate the birthing of new paths to travel when reaching backwards in order to create a more realistic portrait. Perhaps the current proliferation of exhibitions re: Feminist artists from the '70's will benefit if curatorial decisions are based upon rigorous research also inclusive of feedback from a group composed of artist peers, friends, and other professionals who may have worked with some of the artists at that time. The challenge of RIGHTING HISTORY seems possible only if the subject and time frame reflects numerous perspectives. This can best assure leaving behind the most accurate/fullest historical references for future generations to mine. Perhaps this endeavor will halt the deletion of important contributions disappearing, as if aliases dragged into the trash-Poof! I continue creating installations that are excavations for levity buried inside the serious, designed to stretch commonly accepted definitions. These include a house of quotes Kiosk.Edu 'hovering at night', reflecting thoughts of artists, HOME SWEET HOME, revealing poignant quotes from women architects, artists, and performers from then and now, and environmentally charged works like CloudHouse; A piece hosting a cloud, perpetually changing shape via ultra sound vibrations and barometric weather conditions surrounding it. Envisioned as a soothsayer, CloudHouse can be developed forecasting dangerous imminent weather conditions.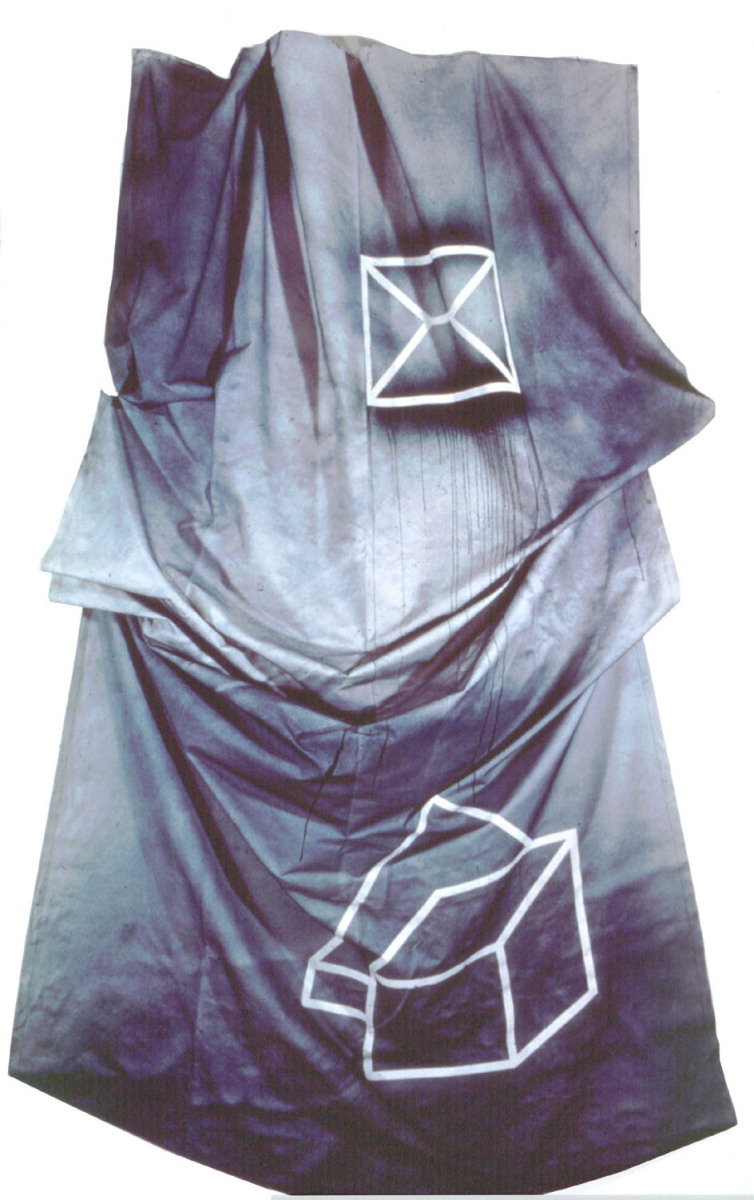 My draped paintings were created to challenge the assumption that painting is classified as such when made and presented within a geometric, rectangular, and/or stretched canvas format.
I first exhibited Draped Paintings at the Kornblee gallery in New York in 1968. Following "ONE MAN SHOWS", as James Mellow stated in a NY Times review (12/5/71), included pleated and draped sound installations in 1969, 1970 1971, Kornblee Gallery. Writer Cindy Nemser's NY Times rebuttal headline read: CAN WOMEN HAVE ONE MAN SHOWS? (1/9/72).
Contact
106 Spring Street #2N
New York, NY 10012
U.S.A.
Email
Text, images, audio, and/or video in the Feminist Art Base are copyrighted by the contributing artists unless otherwise noted. All rights reserved.