Tracey Emin
New York,
USA
Tracey Emin was born in London in 1963 and was raised in the seaside town of Margate on the English coast. After leaving school at an early age, Emin enrolled at Maidstone College of Art in Kent at the age of 20 and studied painting. She then went to London where she completed a Masters in Painting at the Royal College of Art. She has had solo exhibitions at the Stedelijk Museum of Modern Art, Amsterdam, the Museum of Modern Art, Oxford, and she will represent Great Britian in the 52nd Venice Biennale. The Tate Modern has devoted an entire room to her work and she has also shown at the Brooklyn Museum of Art, and the Museum of Contemporary Art, Miami. A consummate storyteller, Emin engages the viewer with her candid exploration of universal emotions. Using experiences from her own life, she often reveals painful situations with brutal honesty and poetic humor. Emin lives and works in London.
Feminist Artist Statement
When I had my interview for art school in 1983, one of their questions was: "What do you think of Feminism?" My answer at the time: "I don't."
By that I meant that I didn't think about Feminism. Of course that's changed a lot now. I often think about feminism, in an everyday way and in an historic way. But to be honest, being a woman has never stopped me from doing anything I wanted to do. Apart from fuck a man really hard up the arse. I've never had penis envy, but I've often wondered what it must be like. I know that just having a penis definitely affects your wage packet, but I'm not bitter and twisted. I'm grateful to all the women that work so hard to enable women like me to have a voice. And I'm still shouting.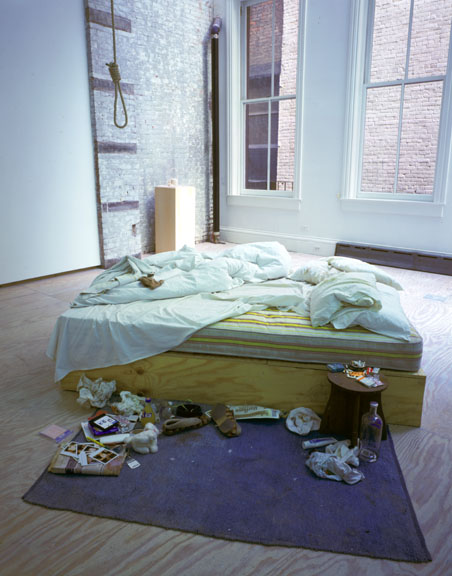 Contact
540 West 26th Street
New York,
USA
Email
Text, images, audio, and/or video in the Feminist Art Base are copyrighted by the contributing artists unless otherwise noted. All rights reserved.