Zoulikha Bouabdellah
Paris,
France
Zoulikha Bouabdellah (b. 1977) was born in Moscow, Russia. At an early age she moved to Algeria and then to Paris in the 1990's. She earned a Diplme National d'Arts Plastiques in 2000 and a Diplme National Suprieur d'Expression Plastique in 2002 from Ecole Nationale Suprieure d'Arts de Paris-Clergy. She also studied in a laureate program at the Villa Medicis Hors les Murs in Cape Town through the AFAA (French Association for the Artistic Action) in 2005. She had a recent solo exhibition at La Lettre Vole in Brussels. She has been included in group shows at such venues as Museum Kunst Palast, Dsseldorf; Hayward Gallery, London; Centre Georges Pompidou, Paris; Centre de Cultura Contemporania, Barcelona; and Iziko South African National Gallery in Cape Town where she completed a three month residency in 2005. Her films have been screened at Saddler's Well and the Tate Modern, both in London. She has also participated in the Biennale of Contemporary African Art in Dakar in 2002 and 2004. She currently lives and works in Aubervilliers, France.
Feminist Artist Statement
It is very important to me to be part of the Global Feminisms show. The objective of the exhibition is excellent, not only because it shows the creative diversity of females, but also, because "the feminist question" is expressed in each individual piece.
The Elizabeth A. Sackler Center for Feminist Art, conceived as a platform for female creativity, inevitably perpetuates female action. This action is informed by the fight for recognition in all areas, especially in creativity.
I think of women such as Louise Bourgeois or Gina Pane, each of whom in their own way, have nourished the ART-FEMME debate. I stand on the side of the deuxième sexe (the second sex), the open-minded sex- the one that challenges the lack of spirituality and morality of its times, the one that redefines things in a perpetual way.
—Translated by Jodie Dinapoli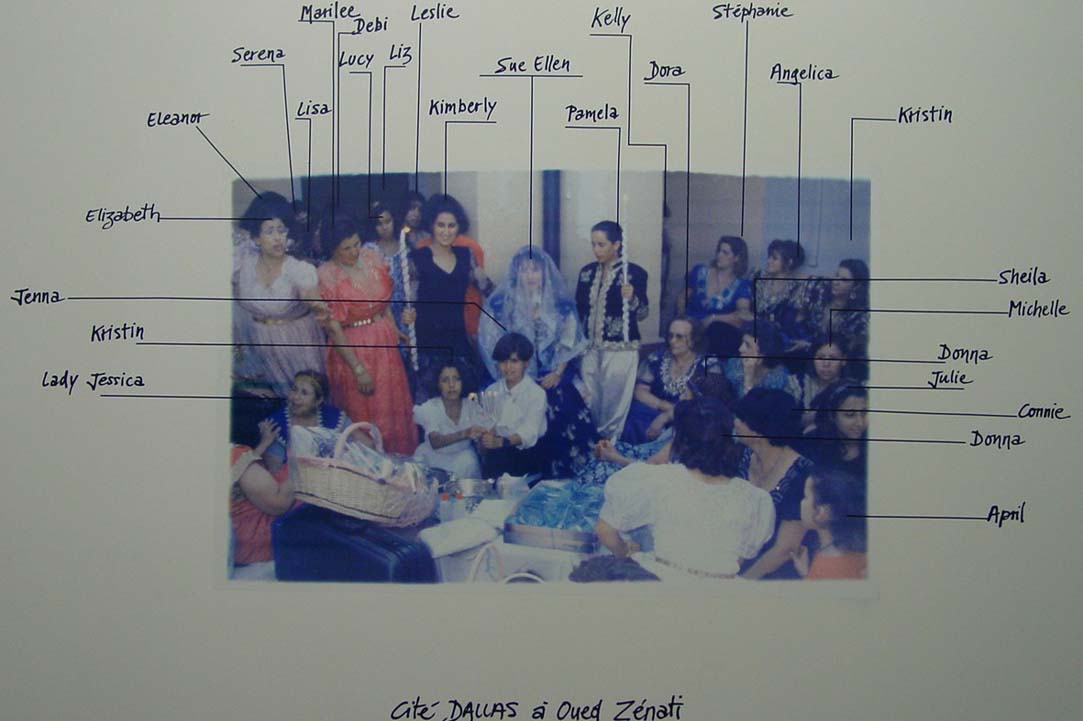 A marriage scene in a village in Algeria. An image representing the woman's side, some ceremonies in Algeria are still not co-ed. Women, like all housewives in the world, faithfully follow American TV series. They also live vicariously the lives of rich westeners through the medium of television. In a broader sense, it is the whole town aspiring to a western lifestyle. The modern buildings in the town of Oued Zenatu seem like the ones in the series Dallas. A direct reference to the buildings appears in the episodes of the Texan series.
ve;ne d'un mariage dans un village algérien. Cette image représente le côté des femmes, certaines cérémonies en Algérie étant encore non mixtes. Les femmes comme toutes les ménagères du monde suivent avec fidélité les séries télévisuelles américaines. Elles vivent ainsi la vie des richissimes occidentales par procuration. D'une manière plus large, c'est tout le village qui aspire au style de vie occidentale. Les cites d'immeubles avec l'aspect moderne qu'elles donnent au village de Oued Zénati se voient nommées du nom de la célèbre série Dallas. Écho directe aux tours montrées dans le générique des épisodes texanes. courtesy BANK galerie
Translated by Jodie Dinapoli
Text, images, audio, and/or video in the Feminist Art Base are copyrighted by the contributing artists unless otherwise noted. All rights reserved.