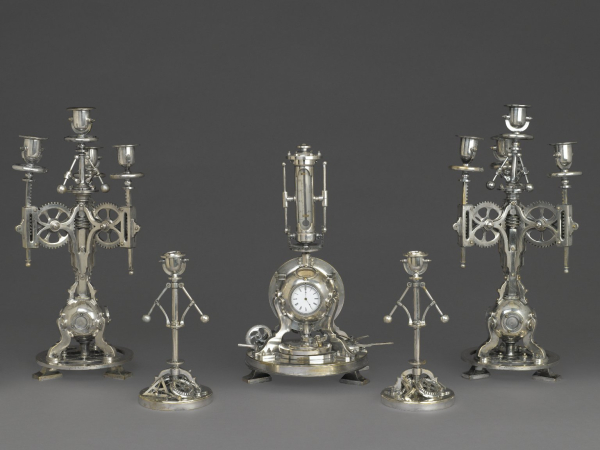 19th-Century Modern
Featuring more than forty items from our collection of American and European decorative arts, 19th-Century Modern focuses on the emergence of modernism, a design aesthetic based in part on the machine as a source of artistic inspiration. To many, "modern design" suggests the simple lines, abstract decoration, and machine-based methods and materials that gained widespread popularity in the twentieth century. The objects in this installation demonstrate that the development of modern industrial design and the emergence of a taste for abstraction began much earlier. In addition to differences in objects' appearance, this period marked important modifications in how objects were produced and marketed. The works included illustrate the development of the modern industrial world and of an appreciation for simple decoration based either on geometry or organic curves.
The installation features objects dating from the early nineteenth century, when the trend toward modernism began, to the twentieth century. The items on view include furniture by John Henry Belter, Duncan Phyfe, the Thonet Brothers, Samuel Gragg, Bradley & Hubbard, and George Hunzinger; silver objects by Tiffany & Company, Gorham Manufacturing, and Napier (in particular designs by Christopher Dresser and Elsa Tannhardt); and a five-piece French clock garniture manufactured by Guilmet.
19th-Century Modern is organized by Barry R. Harwood, Curator of Decorative Arts, Brooklyn Museum.
Generous support for this exhibition was provided by the Barrie A. and Deedee Wigmore Foundation and the Harold S. Keller Fund.