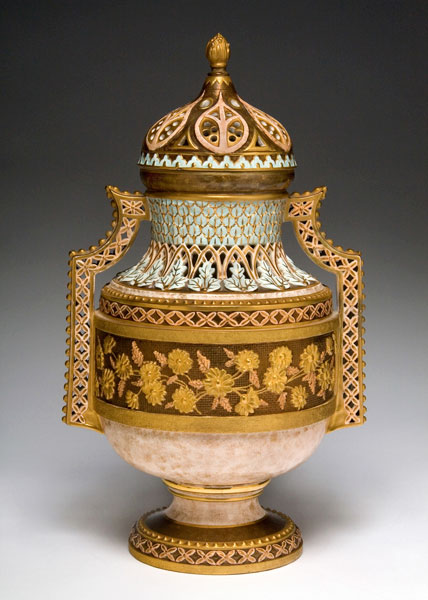 Aesthetic Ambitions: Edward Lycett and Brooklyn's Faience Manufacturing Company
May 3, 2012–June 16, 2013
This exhibition highlights the nearly fifty-year career of ceramicist Edward Lycett (American, 1833–1910), creative director of the Faience Manufacturing Company from 1884 to 1890. The range of works illustrates Lycett's talent and adaptability to stylistic changes in the late nineteenth and early twentieth centuries, as well as his vision for Faience, a company based in Greenpoint, Brooklyn, that earned acclaim for producing ornamental wares that introduced a new standard of excellence in American ceramics. These bold and eclectic pieces synthesized Japanese, Chinese, and Islamic influences characteristic of the Aesthetic movement and were sold in the United States' foremost art ware emporiums, including Tiffany & Company.
Among the ceramics on view are 39 Faience pieces, including a number of large-scale vases. Also on view are Lycett's formula books, family photographs, and other ephemera; rare examples of ceramic works by his three sons; and other Brooklyn-made ceramics from the Museum's collection.
Aesthetic Ambitions: Edward Lycett and Brooklyn's Faience Manufacturing Company is organized and circulated by the museums of the University of Richmond, Virginia. The Brooklyn presentation is organized by Barry R. Harwood, Curator of Decorative Arts. A fully illustrated catalogue with an essay by exhibition curator Barbara Veith, an independent scholar of American ceramics and glass, accompanies the exhibition.
Generous support for this exhibition has been provided by Barrie and Deedee Wigmore.