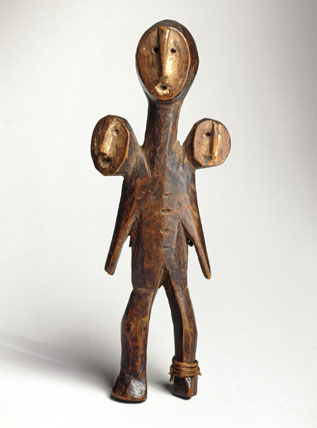 African Innovations
August 12, 2011–September 28, 2014
A complete reinstallation of roughly 200 works from our world-renowned collection of African art, African Innovations is organized with a particular focus on the aesthetic, social, political, and cosmological problems addressed by African artists through their work. A dynamic and diverse range of objects that includes wood sculpture, metal casting, terracotta, textiles, and beadwork, African art has a long history of adaptation to and exchange with cultures near and far.
Marking the first time that our African collection has been arranged chronologically, African Innovations invites you to examine the continent's long record of artistic excellence, extending from ancient times through the present day. The installation stretches over some 2,500 years, from masterworks of ancient Nubia and Nok to contemporary pieces from the twenty-first century. Art from the nineteenth and early twentieth centuries, which comprises the majority of the collection, is considered according to five themes: protection, transitions, authority, masquerade, and personal beauty. A concluding section, our first dedicated space for contemporary African works, contains pieces by artists such as Viyé Diba, Magdalene Odundo, and Yinka Shonibare. Each of these artists claims a part in African art history while drawing on global perspectives—thus continuing the ongoing history of African innovation.
African Innovations is organized by Kevin D. Dumouchelle, Assistant Curator, Arts of Africa and the Pacific Islands, Brooklyn Museum.