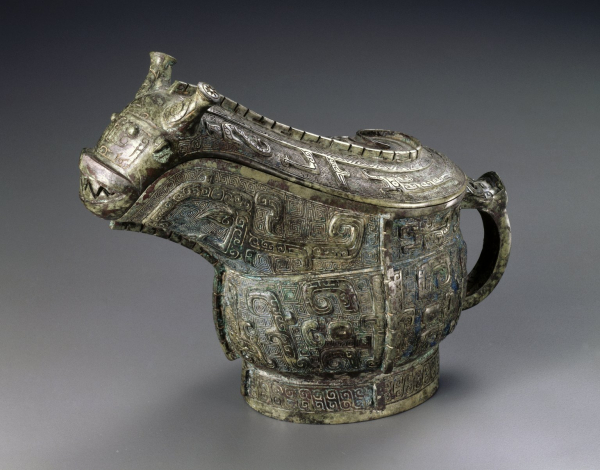 Arts of Asia
We house one of America's foremost collections of Asian art. The Asian galleries, once renovated, will continue to provide a full survey of those holdings, featuring more than 350 works of art from Japan, Korea, China, India, Southeast Asia, and the Himalayas. The collection is home to a diverse array of objects, from glowering Japanese guardian figures to delicate Indian miniature paintings, and from the heavily wrought surface of a Chinese cloisonné altarpiece to the smooth celadon glaze of a Korean ewer.
The Chinese collection features objects that range in date from the Neolithic period (circa 3000 B.C.E.) to the present. The works reveal the sophistication of Chinese craftsmanship and the variety of concerns—funerary, courtly, religious, and poetic—that combined to define traditional Chinese culture. They also demonstrate an enduring respect for antiquity, visible in forms derived from ancient bronzes, emblems such as the dragon and the taotie mask, and materials such as jade, all of which were employed by Chinese artists over several centuries.
We were one of the first American institutions to collect and exhibit Korean art, and as a result we house one of the country's premier collections, with varied art forms through which Korea distinguished itself from its neighbors, including a fine selection of ceramics such as early stoneware funerary vessels, inlaid celadons, and later wares with freely painted underglaze decoration. There are also rare examples of bronzes, furniture, and painting.
Japanese works form the largest area within our Asian collections. In addition to traditional arts of Japan, they include ceramics by great masters of the twentieth and twenty-first centuries. A portion of the collection is dedicated to the art of the Ainu people of northern Japan, material rarely seen in Western museums.
Our outstanding collection of South Asian art includes works from India and surrounding areas. These objects represent the rich religious traditions of southern Asia—Hinduism, Buddhism, Jainism, and Islam—with an emphasis on figural sculpture and architectural elements. Among the strengths of our holdings are terracotta figures dating from prehistory to the present and courtly objects made from precious materials.
Southeast Asia and the Himalayas are represented by several noteworthy objects, including large-scale sculptures from Cambodia and Thailand and early images from Kashmir and Nepal. Like South Asian traditions, the arts of these areas are primarily religious in subject or inspiration.