April 29–September 18, 2016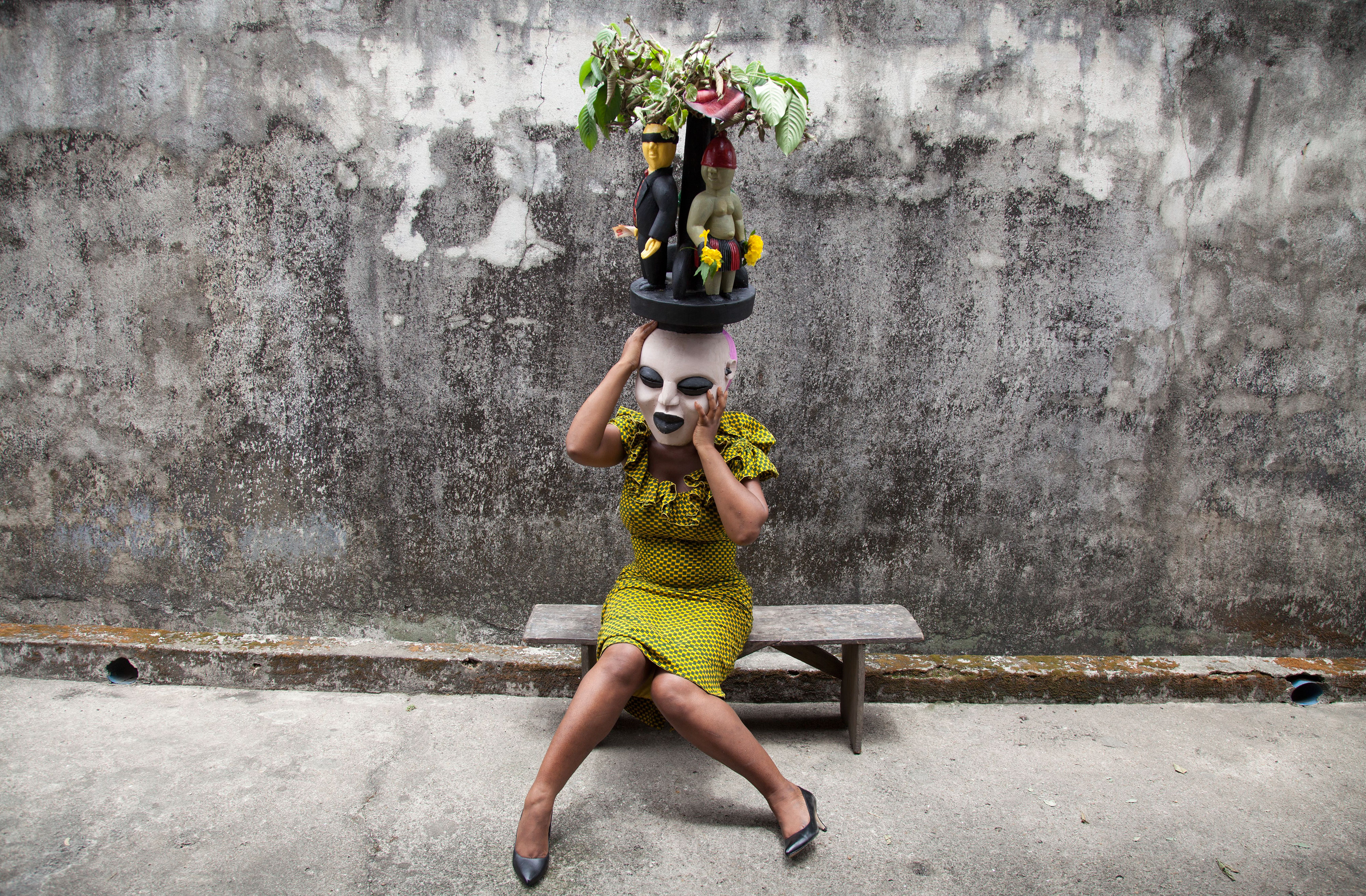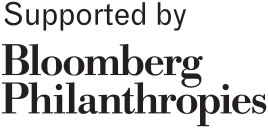 What is this mask for? How does it still have hair if it is ancient?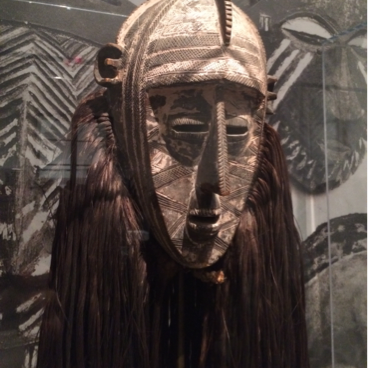 The Bolo mask by a Bobo artist would have been worn in a performance meant to entertain the community. This performance tradition was created in the 20th century in response to a request by colonial government officials that the Bobo produce a mask for entertainment at official functions and national holidays.The horns at the top of the mask likely represent an antelope, and they reference the specific clan that would have owned this mask.
I love masks like this because they illustrate that not all masks are "traditional" and masquerade is always and growing even in modern days. 
What is the specific fiber that is "hair" made of?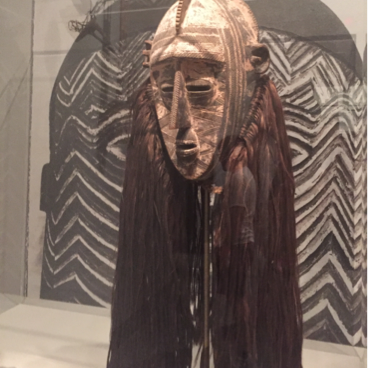 The fibers in question are natural plant fibers. Although conservation hasn't taken a sample and done microscopic fiber ID of the material conservators speculate the fibers are from the Sansevierio plant.  A species of this plant is native to Africa (Sansevierio Liberica).
Egungun is a Yoruba traditional masquerade danced once a year to call forth and pay respect to the ancestral dead, who reenter the community through these costumes.
What I like most about egungun is how ornamental the fabric are, the example we have here really showcases cross cultural exchange. Some of the fabrics and dyes are produced locally, while others are traded.
Why are women barred from this practice in Africa?
Women are actually quite involved in masquerade, creating costumes, singing and dancing, as well as spectatorship. In general women simply do not wear wooden masks Africa is such a large continent with millions of people, so there are always exceptions! Women wear wooden masks in a few instances such as the Mende women in Sierra Leone who wear them in the Sande society. 
The role of women in masquerade traditions is being challenged and critiqued by numerous contemporary art, nearby works by Zina Saro-Wiwa and Wura-Natasha Ogunji and Saya Woolfalk all are investigating femininity in relationship to wooden masks.
I love this mask, but what is it for?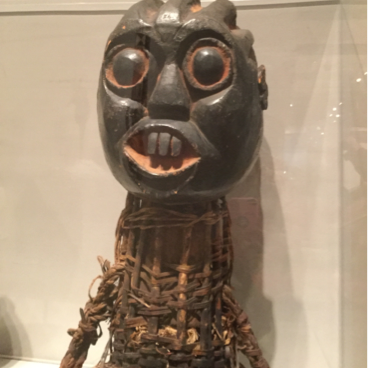 Masks like this would have been worn during funerals. It would sit on top of a person's head, so it would command a lot of respect from the spectators. A skirt would cover the woven basket like neck. The straps you see would help keep the mask on the wearer's head. 
It comes from the Baumam kingdom of Cameroon and would have been worn by a member of a secret men's society known as Nsoro.
Cool but I think it is scary a little. I don't want to be afraid AND sad at a funeral.
I can see that for sure.The Nsoro society I mentioned earlier were warriors tasked with maintaining social order. It makes sense that a mask representing them would be a  bit fearsome don't you think?
The carving at the top of the head represents the elaborate woven hats popular among high ranking men in Bamum society. 
Yes but why are there three teeth instead of two like rabbit teeth? 
It was a choice by the artist who made the mask. However, I'm not comfortable speculating any meaning from the way the teeth are carved. Masks are often nonrepresentational/otherworldly characters blended with human characteristics. 
Sometimes the choices can tell us a bit about what's happening when a mask is made. For example, the Ode-Lay Mask in the same room has dragons on it because kung-fu movies were really popular in Sierra Leone at the time.
What's the story here?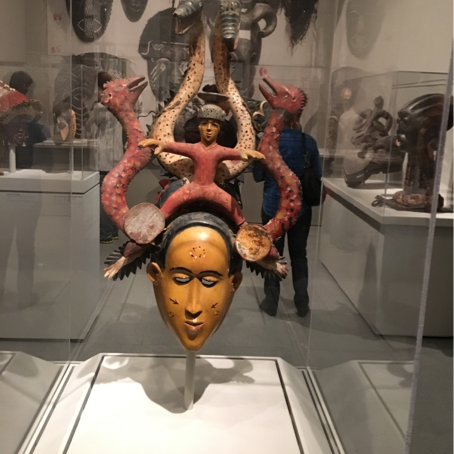 Hello! This Ode-Lay Mask by a Temne artist dates to the 1970s. It comes from the city of Freetown in Sierra Leone. At that time, kung-fu movies were a new and very popular genre, and likely captivated the artist responsible for this mask. Ode-Lay masquerade is rooted in contemporary urban culture, which is surprising to many visitors.
It's a great example of how masquerade is a living, constantly evolving tradition!
This is a mask? It looks like a sculpture. How would you dance in this!?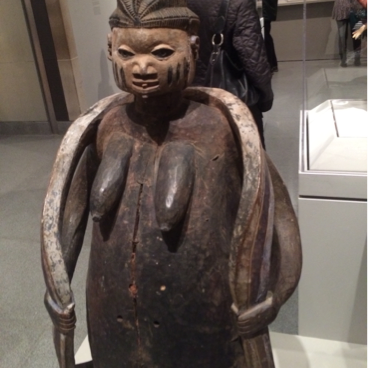 You're right, this mask does seem too sculptural and heavy to be worn! However, looks can be deceiving, This "Gelede Body Mask" would be worn by male performers in Benin covering not only the wearers face, but their entire body!  I like this mask because it really speaks to the athleticism and fitness required to perform in masquerade. In Gelede, a Yoruba form of masquerade, men perform as respected women from the community.          
Gelede is performed to invoke supernatural "Mothers" to bless the community. It can be performed during times of community stress, such as during droughts.
What was this mask used for?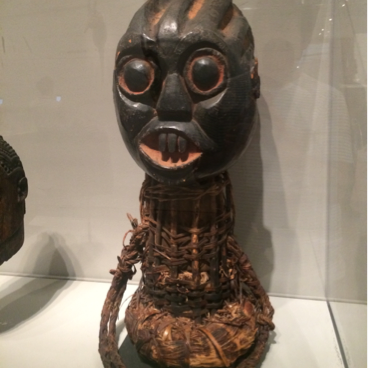 This mask by the Bamum or Tikar in West Africa . This type of headdress would only be worn by members of the men's warrior society known as the Nsoro. Traditionally danced in pairs with one mask representing the king or chief and the other representing his wife.
These would be worn at funerals of important members of society, such as kings, chiefs, elders and members of the Nsoro society.
 The Nsoro society tasked with settling disputes, and so perhaps this mask was meant to be a bit frightening to reiterate that point.
How would it be worn? The fiber structure below the face is there to lift the mask above the wearers head, it would be covered by a grass skirt. The straps would be held by the wearer to stabilize the mask.
I sense that 'when' might be the next question. This mask was made in the late 19th century :)
So this covers your whole body. . . but when would someone use this?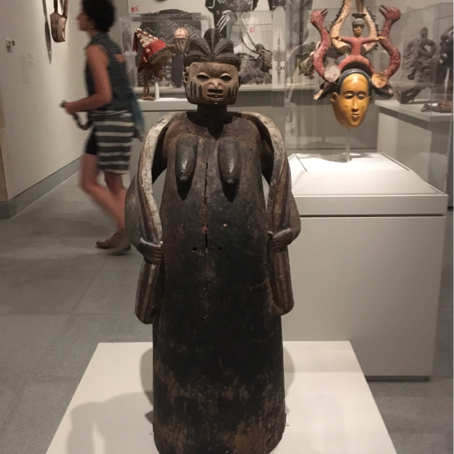 This Yoruba Gelede mask would be worn to perform celebrations of  women and motherhood and to ensure continued fertility, the dancers are always men which in common in African masking traditions.       
Gelede masquerade, can be performed in different circumstances such as the death of a member of the Gelede society, drought, barrenness in women, or an invasion of mosquitos. Its goal is to restore harmony in society, a person, a group, or the whole community. As you move through the exhibit you'll notice these masks start to take life. They weren't intended to be static object, rather a part of a performance.